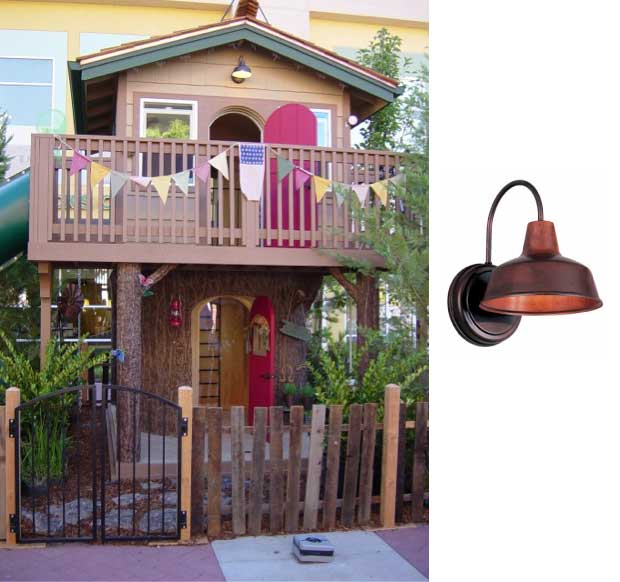 An Extreme Playhouse Worthy of Barn Lights!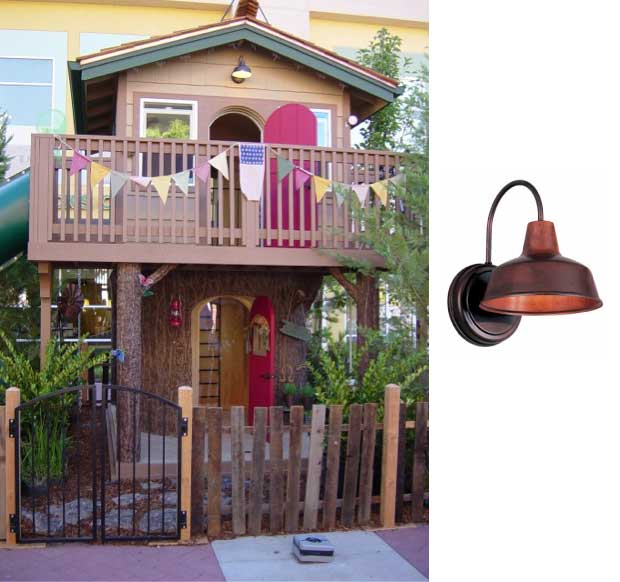 Playhouses and tree houses are perfect hideaways for kids to spend countless hours tapping into their imagination and creativity. Today, parents can kick these backyard hideaways up a notch with stylish and useful accessories! Oftentimes outdoor play places are over the top and feature life like additions such as windows, staircases, indoor plumbing and lighting. Barn Wall Sconces and Outdoor Lanterns are the finishing touch to providing a safe, and life like play area. Lighting your child's extreme playhouse not only gives them a feeling of being home, but also provides safety features for playtime throughout the day or night!

The playhouses featured today were found on Houzz.com. The lavish abode above was designed by Kerrie Kelly, an interior designer and author of "Home Décor, a Sunset Design Guide." Located on the second story, rests a wall sconce resembling our Austin Sconce. With the rustic sconce positioned directly over the entry way, a soft beam of light will flood the doorway full of light. This was a very smart addition to the second floor as there is a nearby slide and outdoor balcony; lighting the walkway will eliminate trips and can become a safety feature!
The Austin Sconce's rustic look is achieved by selecting a Rosewood finish. The deep brown tones really stand out next to the beige, red and forest green accents. This barn lamp is an affordable and stylish indoor/outdoor lighting option for any style home or Lincoln Log inspired playhouse.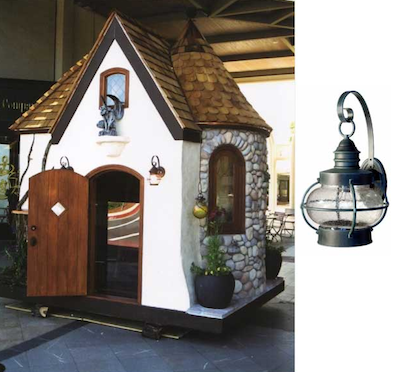 A more moderately sized, but still over the top playhouse, takes on a medieval, storybook theme and was designed by Simpson Design Group Architects in Redwood City, California.
Wood shake shingles and a round cobblestone wall first draw in your eye. Upon walking into the front entrance, rest two outdoor lanterns. Their wrought iron appearance and stylish glass globes provide the finishing cottage touch with paired with the gargoyle overhead, don't you think? These stylish lanterns resemble our Bridgewater Barn Lantern. The Bridgewater is available for purchase in more than 20 different finishes, and is one to consider for lighting cottages, barn renovations, or Tudor and New England homes.