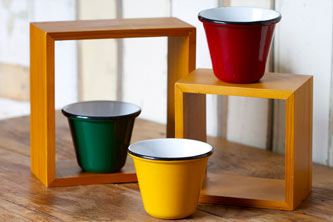 Enamelware Cups are New Addition to Industrial Home Utility
If you're one of many that has been browsing and perusing the Barn Light Electric website for quite some time now, surely you've noticed quite a few changes. From what started off as a little "Mom and Pop shop" type of website, we've made our pages more user friendly and added on so many different options. Surely, you've noticed the new layout and design, and perhaps even the icons on each product listing. Not sure what they mean? Hover over each image for an explanation!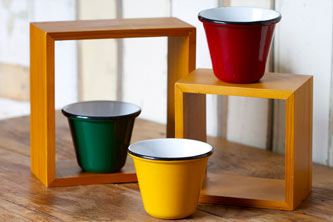 Not only are we adding on new features, we've also been expanding our product lines. So long are the days of just American made light fixtures. The Industrial Home Utility section is one of our newest and quickest expanding pages. From wire baskets to industrial stools, these products were selected with our customers in mind. Recently, we've added the Enamelware Cup, which is manufactured in the same manner that our Porcelain Barn Lights are made: right here in America.
So what is so great about enamelware cups? More like — what isn't so great about them! Hand spun by our skilled craftsman here on Florida's Space Coast, these cups are available in the same brilliant finishes as our light fixtures. Refreshing jadite and yellow lend a retro feel, whereas a solitude black or white contributes to a formal, muted pallet. Got kids who need a sturdy bathroom cup? These cups are a long lasting investment. Need a spot for your makeup by the door for a quick fix? Standard plastic cups are going to fade and crack with the typical wear and tear, but our enamelware cups aren't even familiar with the phrase "wear and tear." Don't believe it? Check out how our porcelain barn lights are actually made, and you will be convinced of the high quality!