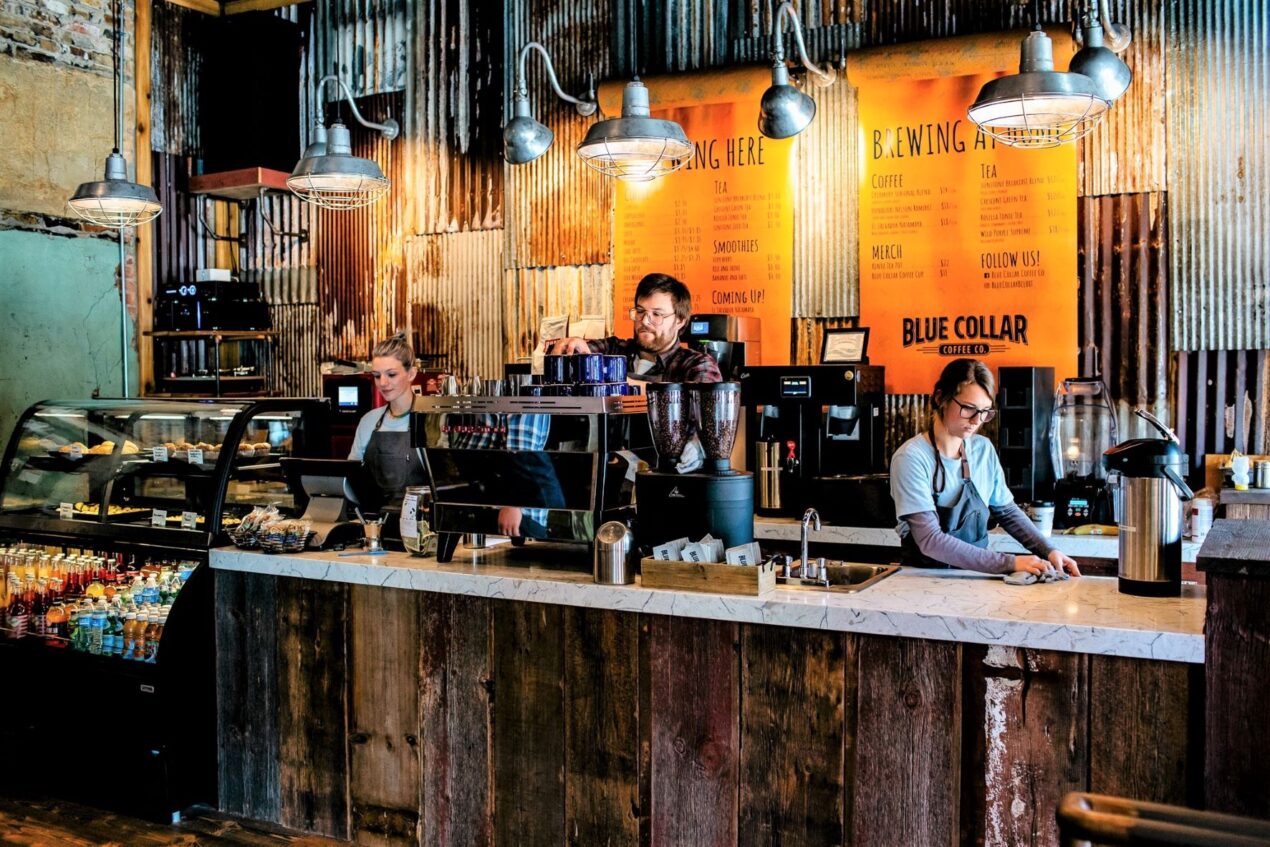 American-Made Lighting Provides Quality, Character in Coffee Shop
The talented folks behind the scenes at Blue Collar Coffee like to say they "serve coffee with character for hardworking people." With locations in Beloit and Delafield, Wisconsin, and in Indianapolis, Indiana, the coffee shops boast old-school style inspired by the American blue collar worker.
"Our corporate office is in a campus formerly populated with blue collar workers," says Susan Griffin, vice president of interior design with Hendricks Commercial Properties. She spearheaded renovation efforts at both Wisconsin locations of Blue Collar Coffee with a design focus on quality and character.
"The Beloit location was a total gut renovation of a former restaurant," Susan notes. "Delafield was a remodel; totally changing the aesthetics of a former coffee house to implement the Blue Collar brand." Part of the changes included adding rustic woodwork, salvaged galvanized wall panels, and handcrafted lighting from Barn Light Electric.
For the Beloit location, Susan chose The Original™ Warehouse Pendant Light which is handcrafted from commercial-grade aluminum. She customized these pendants with 14″ shades, a Galvanized finish, standard black cords, and a wire cage.
"We wanted American-made lighting that we could customize to our specifics," Susan explains. "We chose these pendants to accent the salvaged galvanized wall panels within the space. They also look like fixtures that would have been in former shops and factories. They totally spoke to us in the Blue Collar language!"
Susan also selected the Emblem Sign Light to highlight signage along the walls. These sign lights are customized with 10″ shades, the same Galvanized finish as the pendants, and G22 gooseneck arms. Susan also selected the swivel knuckle option so the lights could be positioned exactly as needed.
"These lights have tons of character and give the lighting directional we desired," she notes. "They have the exact feel we were looking for."
In the Delafield location, Susan also opted to include The Original™ Warehouse Flush Mount Pendant which offers the same classic styling as the cord-hung pendant but with a ceiling hugging flush mounting. She customized these pendants with 16″ shades, the Galvanized finish, and the same wire cage for added vintage appeal.
"These lights help create a comfortable flow in the space," Susan explains. "Beloit was our first location and the desire was to carry the atmosphere and aesthetics to our other locations."
To add extra light over the booth seating along the wall, Susan selected the Marathon Gooseneck Light which has a slightly shallower shade than The Original™. These are customized with 14″ shades, the Galvanized finish, and G17 straight gooseneck arms.
"Barn Light's customer service was top notch for any questions we had, and they offered good suggestions," Susan says. "We love how fitting the lights are to our brand and past history theme. People love this!"
Photos courtesy of Blue Collar Coffee