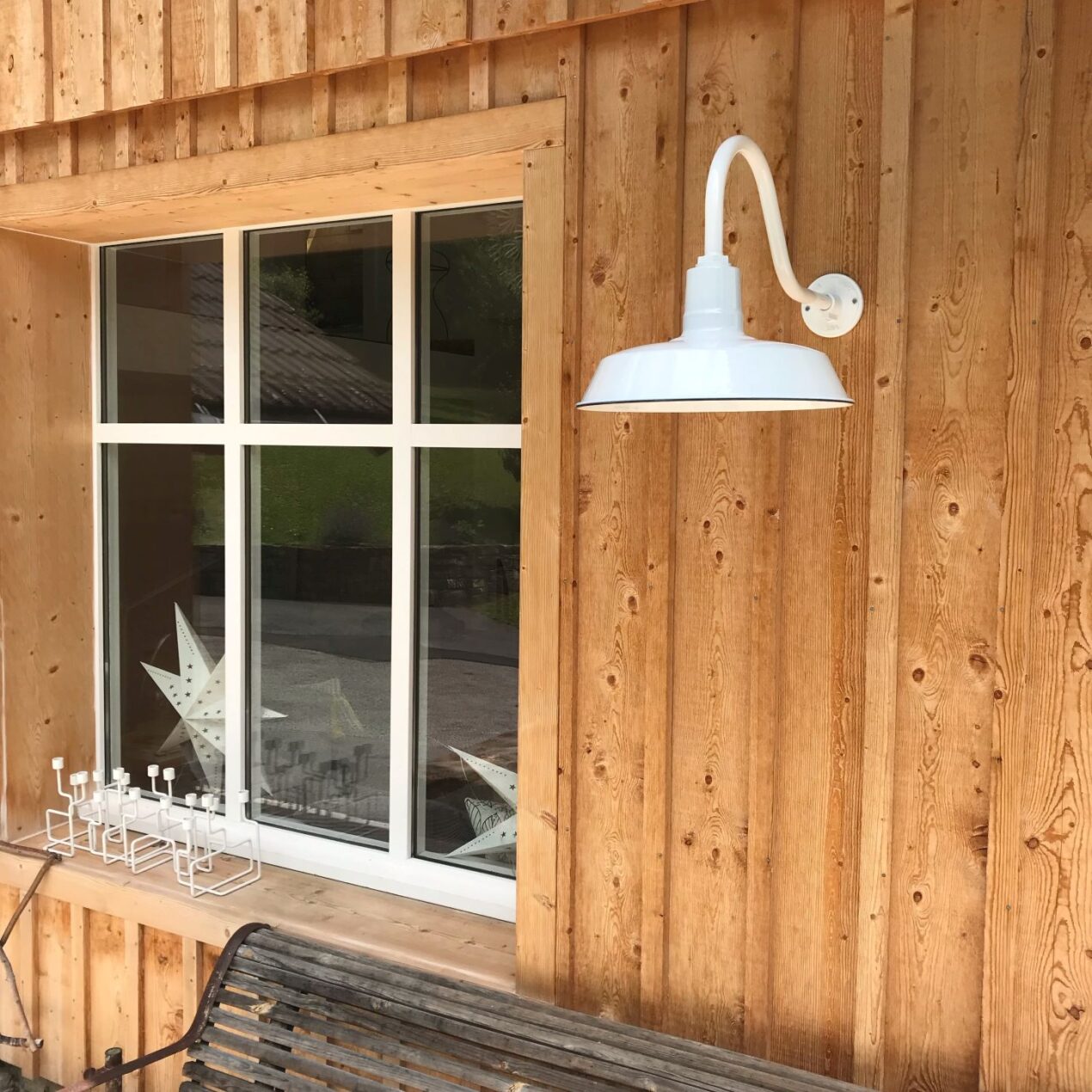 American-Made Goosenecks Look Magnifique in the French Alps
It's no secret that the talented team at Barn Light Electric is dedicated to producing the highest quality, American-made lighting. We ship pendants, wall lights, outdoor lights, and more from Maine to Hawaii and to every state in between. But we also have dedicated customers beyond our borders. Our handcrafted lights have shipped to a variety of far-flung destinations including Mexico, Chile, Saudi Arabia, Australia, Canada, and the United Arab Emirates.
Today, we're chatting with Edouard who recently purchased four Original™ Warehouse Gooseneck Lights for his home in France. Although he was a bit nervous about purchasing from an overseas company, our Customer Care team walked him through the details including customizing options, the differences in electrical standards, and the conversion of euros to dollars.
Q: Where is your home located?
A: We live in Alex, a very small village of about 1,000 people. Alex is in the French Alps, located between Lake Annecy and the mountains and is close to Switzerland and Italy.
Q: Was this a new build or a remodel?
A: We bought our home because of the view and the landscape. The house was quite ugly, from the 70s, the worst architectural period in France! But we thought we could try to make it less ugly. Our wish was to have a simple house in wood like an old Swedish farm or fisherman hut. This is not our dream house as it is far from perfect. But we are proud of what we achieved through so many hours of work during the weekends and, most importantly, we feel good in it.
Q: What was your design direction as you worked on the exterior?
A: We would love to live in a small Swedish fisherman house. You know, those very typical and simple houses in wood painted red or black with white window frames. This is what guided our remodeling. We could not fully transform this house, so we reached something in between the local style and a fisherman hut.
Q: What was important as you looked for lighting?
A: We love finding old, original stuff from flea markets or garage sales. Not the fake vintage, made-in-China lights that you find in many retail stores. We could not find what we wanted until one day we typed in Google "light/farm/traditional" and we found Barn Light Electric. We were seduced since you manage the whole process from product design to production. Plus the high quality of your product and made in the USA were really important for us.
Q: Why did you choose The Original™ Warehouse Gooseneck Light for your home?
A: This gooseneck style looks very American for us. This style does not exist in France. Since we like to be a bit different from others, we thought that no one else would have the same! Then we started to customize our goosenecks on the site. When we reached the order and payment stage, we were a bit stressed by many questions — the electrical standard difference in Europe, the USD/EUR conversion, the transport and risk of receiving damaged goods, and the custom duties. I was very glad to establish contact with Paige on your customer care team who helped and guided me with a lot of patience and support. This is what made me comfortable before processing the payment!
Q: Why did you choose to customize these gooseneck lights with 16″ shades, a porcelain enamel White finish, and G22 gooseneck arms?
A: We spent hours going from one design to another and from one color to another. And again, many hours in converting the dimensions from the US standard to metric. We changed our minds multiple times, trying different gooseneck styles. In the end, we came back to our simplicity principle: the White finish color on the 16″ shade with the G22 arm made the consensus with my wife!
Q: Now that your lights are up, what do you like best about them?
A: We love the Original™ style, the unique model, and the Barn Light USA mention on the fixture. The barn lights give a new style to our house, and the light is very comfortable for visitors. We are extremely happy!
Photos courtesy of the homeowner