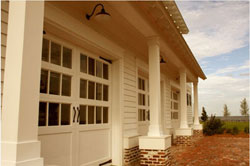 A St. Louis Garage & Guesthouse Gets a Bit of Gritty Glamour
Missouri is known as the Show Me State – which is just what this St. Louis design firm did. They took a beautiful Southern style home and showed us how the prestigious look of gooseneck lighting can enhance a home's exterior. R.J. Elder Design created this simple yet captivating setting with a variety of farmhouse elements.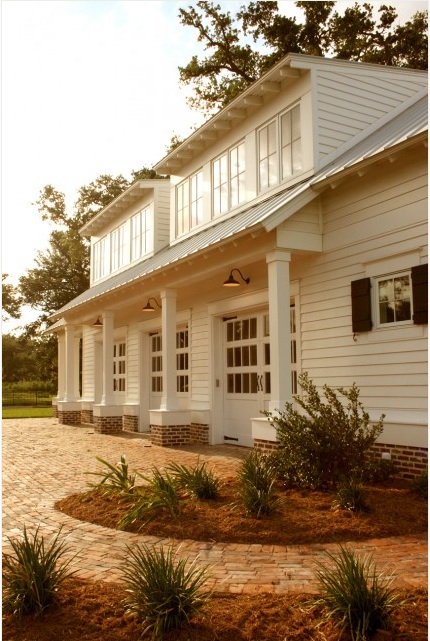 You can easily add this look to your own garage or guesthouse with a gooseneck barn light. Near the first floor bay area, three lights like our Shallow Bowl Gooseneck Light hang over the glass panel garage doors. Since they're based on styles once used at auto body shops and gas stations in the early to mid 1900's, goosenecks like the Shallow Bowl are a natural fit for this space. They even have a fitting nickname – Gas Station Lights. The overall shade design on each barn light adds more than just a nostalgic American look to the home, it accents the off white wooden siding and galvanized metal roofing material.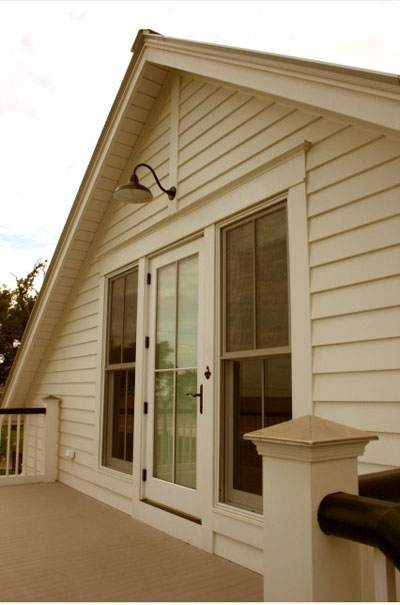 Lighting on the the second story wasn't forgotten either. Gooseneck lighting installed directly over the guest room's balcony door adds much more than visual elegance; it provides a picture perfect setting where guests can sit down for a relaxing night under the stars. Guests will be so impressed by the elegance, they may have a difficult time saying goodbye!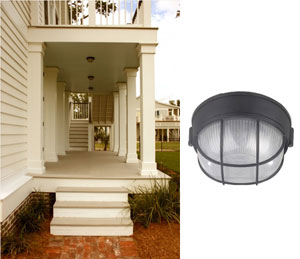 Back downstairs, a closer look at the side porch reveals a series of nautical lights like the Nautical Marine Bulkhead Light along the ceiling. Starting at only $37.00 each, these lights are an affordable alternative to other flush mount lights. The grid style lighting is more commonly associated with industrial use or boathouse lighting, but as the photo below illustrates, these stylish lights can be incorporated into classic, residential areas as well.
Photos Courtesy of R.J. Elder Design