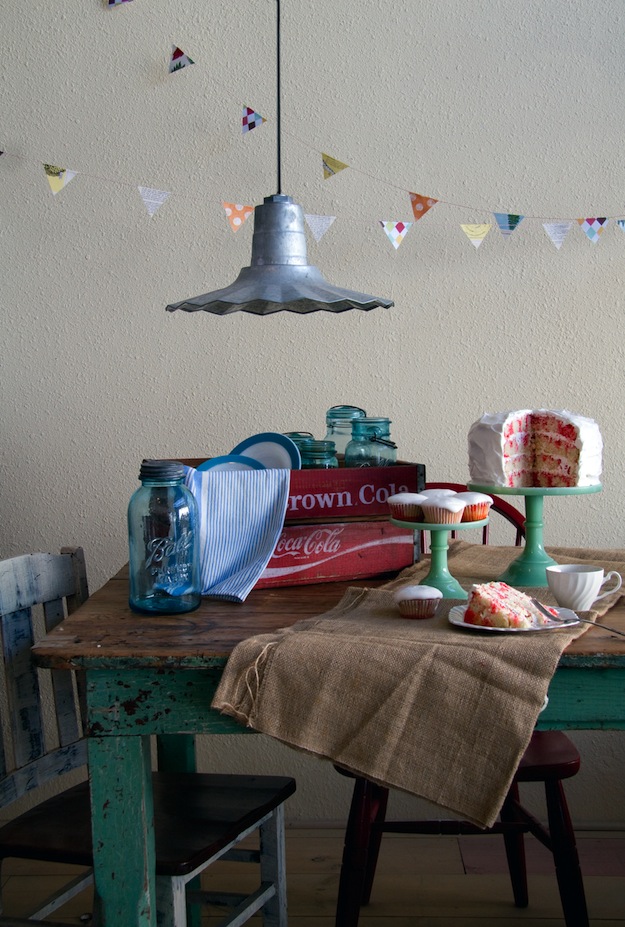 A Nostalgic Pendant Sure To Add Some Rustic Flair!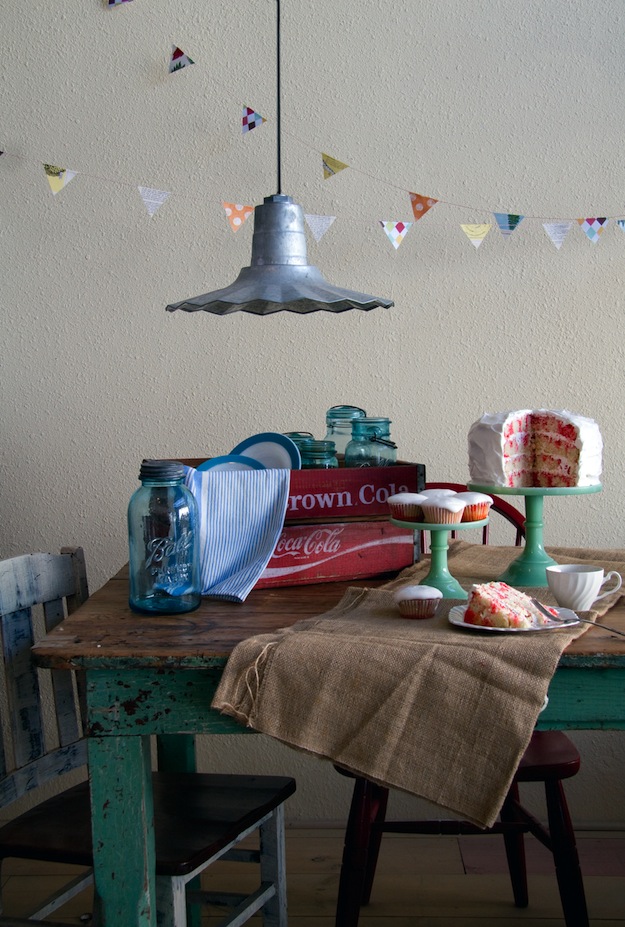 Barn Light Electric 16″ Radial Wave Pendant, 96- Galvanized, Black Cord Hung.
Prices As Shown: $143.00 each
Summer is a time for family gatherings and relaxing with close friends. Whether it's a birthday, family reunion, or just a lazy Sunday afternoon at home, you can bring a touch of rustic country charm to your kitchen. Consider accessorizing with vintage flea market finds, stylish lighting, and even some delicious homemade cake!
These days, tattered and worn furniture shouldn't be discarded and mixed matched chairs are totally acceptable. Burlap is all the rage, and consider yourself lucky if you can snatch up a few colorful grain sacks. Bright soda crates bring in color and can come in handy for storage or carrying items to and from the table. Throw in some hand made bunting for a fresh look, top it all off with a homemade jello cake, and your table setting is complete – well, almost.
No room – indoors or out – is complete with out lighting! For this particular setting, we chose a 16″ Radial Wave Pendant from Barn Light Electric. Galvanized is a great finish choice if you have a more rustic or country home. Its unique metal finish resembles early wash bins, baskets, and cookware and is an easy way to bring that look into your space. This unique wavy appearance originally provided light to early 20th century gas stations, but now it can add a fun new look to any room with its historic roots and nostalgic flair. Whether your need is for exterior or interior lighting, this classic piece of Americana is available in coordinating sconces and goosenecks for additional lighting around the home.
For interior applications, this pendant can be selected with a cord hung option. This allows you to easily install your fixture – it's even ideal for sloped, angled, or crooked ceilings (for those of you with older homes). The cord hung option will allow for a perfectly level light to drop in above tables, counters, or entryways. For wet, outdoor mounting options, you can select a coordinating galvanized stem. This ensures that moisture does not interfere with wiring and allows you to hang this pendant on the porch or around the garage.