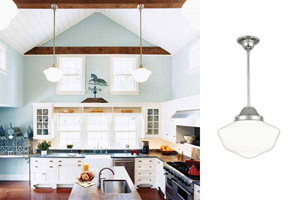 A Home That Gets A Second Life from Schoolhouse Pendants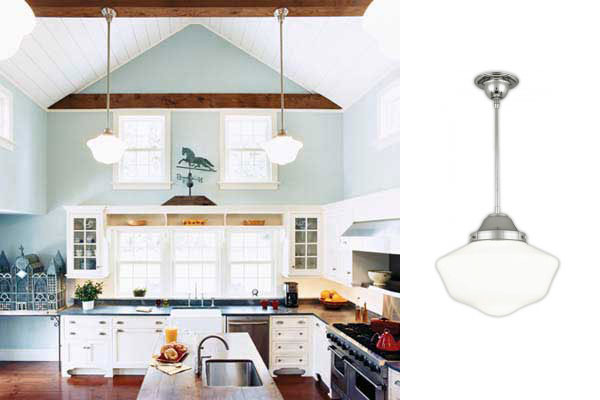 Following our post of "The Smithy" house in West Fulton, New York, we're staying in the Empire State this weekend to show you another farmhouse that utilized barn pendants to revive the interior of its one-and-a-half-story summer kitchen.

The farmhouse kitchen pictured above was built on five acres of property in Westchester County in 1834. After a series of renovations during the 20th century, the kitchen received yet another upgrade earlier this year. To bring their kitchen into the 21st century without destroying its historical charm, the owners added two vintage looking light fixtures. These stem mounted pendants are nearly identical to our own School House Pendant called, "The Volusia."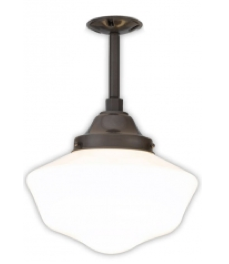 The two pendants were hung from an oak beam structural cross tie to supplement the Clerestory windows that flood the kitchen with natural light. Located on opposite sides of the center island, each pendant provides extra lighting in the most highly trafficked areas of the kitchen. The timeless look of the pendants bring warmth and comfort to a room where the tongue-and-groove ceilings are double the height of your typical ceiling. A light color scheme and plenty of natural light is useful during the daytime, however, long stems were added onto the shades in order to bring the lights down and make them useful during evening hours.
Not all School House Pendants are for high ceilings though. The Volusia can be ordered in multiple stem lengths ranging in sizes from 6 to 48 inches – a flush mount option is even available for homes and hallways with low ceilings.
You too can add the same style to your own home or business. Whether you have an early-20th-century farmhouse layout, a colonial New England home or a contemporary loft in a historic downtown district, School House Pendants are a welcome addition
Photo Source: Unknown