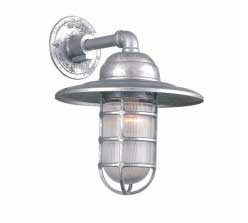 A Comprehensive Guide: Barn Lighting
Welcome back to TheBarnLight.com, a comprehensive guide to traditional, American made barn lighting! With a simple style to complement any setting and industrial strength to endure years of use, barn lights have regained their popularity with home owners, shop owners and interior designers.

During the past few years, barn lights have made the leap from unnoticed outdoor use, to being seen everywhere – literally! Businesses and restaurants use sign lighting to highlight outdoor storefronts, while interior designers and homeowners use rustic sconces and barn pendants for bathroom and kitchen lighting!
Throughout each page of The Barn Light and our other blog networks, you'll find helpful information about gooseneck barn lights, industrial farmhouse designs, and porcelain enamel lighting from iconic brands, including Goodrich®, Ivanhoe® and Benjamin®.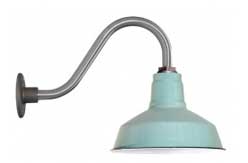 Barn Light Electric offers vintage inspired reproductions of the original barn lights made of porcelain enamel. These vintage barn lights combine raw steel with and an exterior, colored glass finish. These barn lights are made in classic designs and colors as diverse as the homes and businesses they illuminate. Popular barn lamps include the 12″ Goodrich® Dino Porcelain Gooseneck Light, which is a smaller version of traditional porcelain enamel RLM warehouse lights.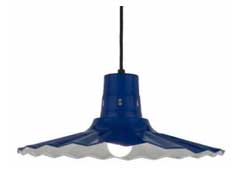 The Radial Wave Vent Pendant is the perfect barn pendant for the homeowner in search of a light that adds aesthetic appeal and atmosphere to any room where it is installed. The vented top slots located on the shade's neck, fan a small amount of decorative light over the uniquely shaped wavy shade. Unique in appearance, this vented shade is an ideal choice for placement above kitchen tables, islands or porches. This style of barn lighting starts at $149.00 each and is available in multiple shade sizes and finish options.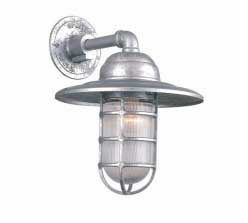 If your home has a rustic, nautical, or industrial farmhouse theme, consider the Atomic Cast Guard CGU Sconce. Beginning at $189.00 for a galvanized metal finish, this universal sconce features Atomic Era nautical styling. Its most notable feature, a modern cast guard and glass, has a design that transcends eras and adapts to countless homes or settings. The Atomic CGU Sconce comes in multiple sizes and is UL Rated for indoor or outdoor use.