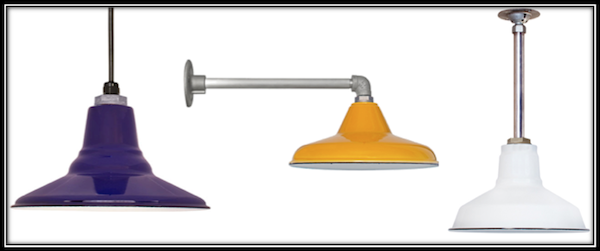 Why Choose Porcelain Barn Lighting?
So you love them, but why should you choose a porcelain enamel light over any other fixture? In a day and age where we're all trying to get the best deals, some items aren't always worth skimping on. While all of our American made lights are built from the best materials, the handcrafted enameled fixtures are absolutely the best of the best.

But what makes them so amazing? For starters, they are easy to clean, weather resistant and they are definitely durable. Lesser quality lights can sometimes fade or lose their original finish, whether it's through sun exposure or merely age. Porcelain lighting though, can be easily revitalized with a little bit of mild soap and water.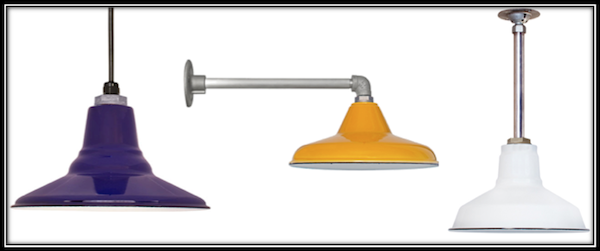 Easy enough maintenance? We think so!
Like we mentioned above, lesser quality lighting fixtures can even corrode or warp though, but that's not the case with our enamel lamps. If you've ever checked out vintagebarnlighting.com, it's likely you have seen the numerous vintage warehouse lights – do you see a common theme? Almost all of them are porcelain enameled as well. The special coating makes them extra durable, and perfect for commercial and industrial use. These older lights have been around for years, proving their overall durability and longevity of life. An extra feature for added durability? A stem mount or gooseneck barn lamp features a solid raw aluminum stem or gooseneck arm to protect the interior wiring from rain, snow or wind.
While the functionality of our made in America lights is a huge bonus, you can't forget the aesthetic aspect. The Goodrich® Marathon Porcelain Shallow Bowl Light (shown in yellow above) is a modern take on vintage factory and gas station lighting. If you're going for a more classic look, the Ivanhoe® Sky Chief Warehouse Pendant is your perfect match!
Below is a video we created showing the difference between or porcelain lights, and other powder coated options we offer.