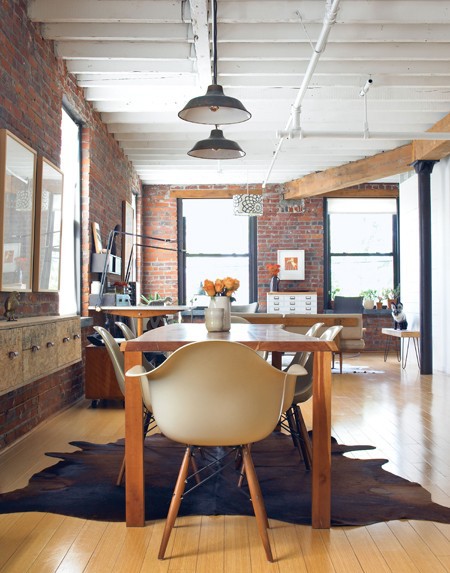 Warehouse Pendants Fit Well in Dining Area with Retro Style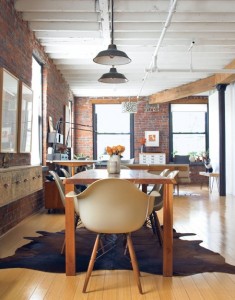 You don't have to be an interior designer to appreciate that this urban loft space features a beautiful mix of old and new. From the aged brick walls and exposed ceiling beams to the updated wood flooring and modern seating around the dining table, this blend of styles flow seamlessly together to create a comfortable, inviting space. By using a mix of styles, the resulting look is never boring or one dimensional but a space where color, texture, and style create a charming, eclectic look. It's no wonder this homeowner chose barn lights to hang above the dining table!

These lights are very similar to our Farm and Barn All Weather Warehouse Ceiling Light, part of Barn Light Electric's outdoor farm lights collection. This barn light is constructed of a corrosion resistant metal that can withstand wet or dry locations, so it's perfect for workshops, garages, commercial areas, or sheds.
But it's also right at home indoors where, as we say at Barn Light Electric, vintage and modern collide. And as part of our discount line of barn lighting, these fixtures are priced for anyone on a budget who is striving for that industrial farmhouse look that is so popular. Available in gray, black, or green finishes, these pendants are priced at only $47.95 and additional discounts are offered on orders of five or more.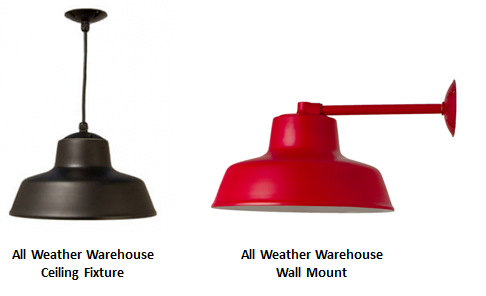 Another similar style is the All Weather Warehouse Wall Mount fixture which also comes in gray, black, green, and red and is attractively priced at less than $50. These wall mount lights can handle any exterior sign lighting task with ease, or use them indoors over the bathroom mirror for a perfect splash of light right where you need it.  If your space doesn't need a complete remodel, try new lighting! It's a relatively inexpensive way to breathe new life into a room without breaking the budget.
Top Photo Courtesy of House & Home