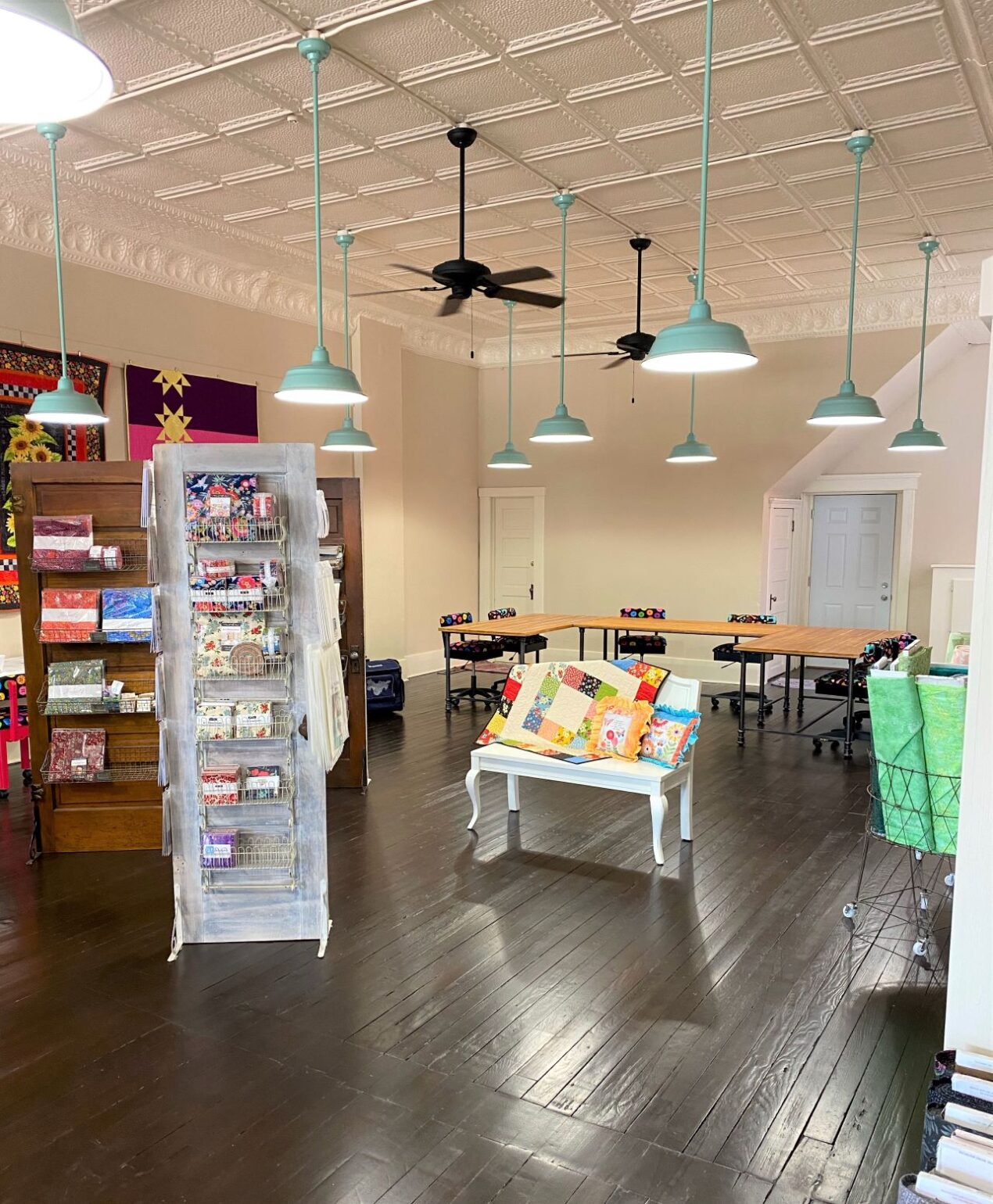 Vintage-Style Pendants Set Delightful Tone in Quilt Shop Expansion
Outgrowing the physical space for a business can be both a blessing and a curse. Growth is good but finding a place to expand can be tricky. For Jeana and her husband, owners of Bossy Sister Quilting in Kinsley, Kansas, the space right next door became available making it relatively easy to expand.
"We originally opened in 2016 after a floor-to-ceiling renovation of a jewelry store built in 1912," Jeana says. "We were able to acquire the building next door which had been built around the same time. It was built as a meat market and later was a hardware store."
As with the first building, maintaining as much of the historic feel while keeping the space up to date was uppermost in the couples' minds. The renovation began with cutting a doorway through 12″ of brick between the buildings. The renovation relies heavily on vintage colors and materials with a hint of modern upgrades.
"The original, 12-foot tin ceiling was sanded and repainted," Jeana explains. "The walls were redone and the original wood floors were sanded and refinished. We kept colors neutral, but we wanted a pop of color in the lighting. Barn-style lighting is a look we both love, and, in our online search, we found Barn Light Electric."
The couple chose the Bomber Stem Mount Pendant Light to light up the new space with both illumination and classic style. They customized 16 pendants with 17″ shades, a porcelain enamel Jadite finish, and 48″ stems.
"Because it is such a large cavernous space, we knew the lighting would have to hang several feet down from the ceiling to give a coziness to the space as well as provide good lighting of product and for our classroom area," Jeana notes. "American made is always a consideration with every purchase as well as product options of size and color. Barn Light Electric provided all of this."
The Bomber is one of our most popular shades with roots in early 20th century RLM-style fixtures. It is available in a wide variety of sizes and finishes including natural metals of brass and copper. Mounting options include gooseneck, chain, cord, wall sconce, post mount, and multi-light options.
"We were able to build our lights with the shape, color, and size we needed," Jeana says. "We chose the Jadite color — there's nothing more retro than Jadite. The soft touch of color it provides against the neutral ceiling and walls doesn't compete with the color in the fabric and quilts." The handcrafted pendants provide the perfect blend of vintage style and modern upgrades the couple wanted.
"There is not one single thing we don't love about these lights. And we get so many positive comments from customers," Jeana says. "When asked where we got the lights, we are happy to share information about Barn Light Electric!"
Photos courtesy of Bossy Sister Quilting