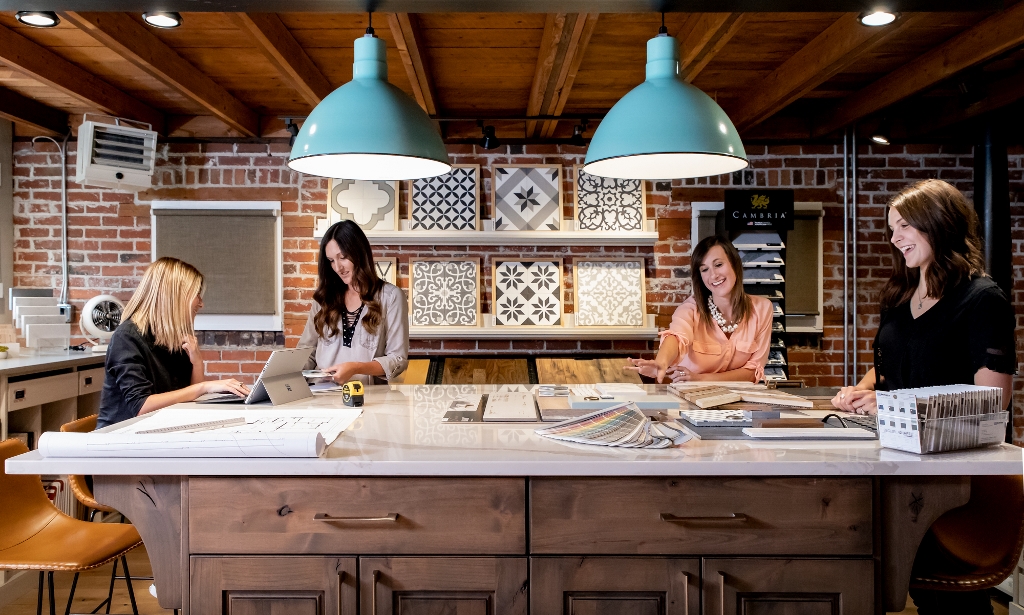 Vintage-Industrial Lighting Makes Bold Statement in Design Studio
Turning a 1920s-era garage into a trendy design studio sounds like one of those makeover challenges on TV. But that's exactly what the team from HighCraft Builders in Old Town Ft. Collins, Colorado, pulled off. The original garage and English Revival cottage-style office were both built in 1929.
We chatted with Kira Koldeway, general manager for HighCraft, about the transformation of the space which serves as a welcoming spot to hold client meetings during the design stage of each project.
Q: What was your design direction as you worked on the garage? What feel were you going for with the colors, materials, and fixtures?
A: When designing the studio, our team wanted to maintain as many of the original design elements as possible — the exposed brick walls, open joist ceiling, and wrought iron stairs. But we also needed to showcase our material samples in their best light.
Q: What was important as you looked for lighting this space?
A: We were looking for fixtures that made a bold statement but also worked well with the vintage industrial vibe of the studio. We wanted on-trend lighting that was loaded with personality and style. From a practical standpoint, we also needed direct lighting over our work surface to clearly illuminate material samples and finish options.
Q: Why did you choose barn style lighting for your studio?
A: An oversized barn light is a good mix of whimsy and practicality. They make the studio friendly and inviting. They tell each studio guest that HighCraft is both professional and trend savvy, and we make the design process fun.
Q: What attracted you to the Wilcox Deep Bowl Pendant Light in particular?
A: The Wilcox Pendant caught our attention immediately because it gave us the oversized feel in a fixture. It is the statement piece were were looking for with the option to customize the style and color that worked best in our overall design. We felt that two pendants, side by side, really balanced the space while providing the necessary amount of task lighting for our work surface. The porcelain enamel finish is a nod to the porcelain lighting that was predominant in the 1920s and 30s, and the Jadite color fits the time period when the house and garage were originally built. American made is a bonus!
Q: Now that you've settled into your studio, what do you like best about your pendant lights?
A: We love that they provide the visual statement we were looking for and add a bit of a vintage-industrial flair to the overall feeling of our design studio. They not only look beautiful but they function well by providing just the right amount of task and ambient lighting for our space. Barn Light is now one of our go-to sources for unique, barn-style and vintage-inspired lighting!
Photos courtesy of HighCraft Builders