Vintage Barn Lighting That Lights Up the Eastern State Penitentiary
We've shown you countless uses for vintage barn lights in recent posts, but today might be the most unique. Taken by very own photographer, the images today come from the Eastern State Penitentiary in Philadelphia, Pennsylvania. We're sure many of you have heard of this famous prison, but here is a little background information.

The Eastern State Penitentiary originally opened back in 1829. There was a lot of controversy about opening such a prison that would supposedly "change the behavior of inmates through 'confinement in solitude with labor.'" With the exception of a few sky lights, cells were completely blocked off from the outside world, even feed doors were installed to prevent contact with guards while delivering food. This also meant that prisoners within the walls wore masks in order to keep the inmates from communicating during rare trips outside their cells; inmates were even required to wear these masks while outdoors. A few of America's most notorious criminals were held here, these include Al Capone and bank robber Willie Sutton.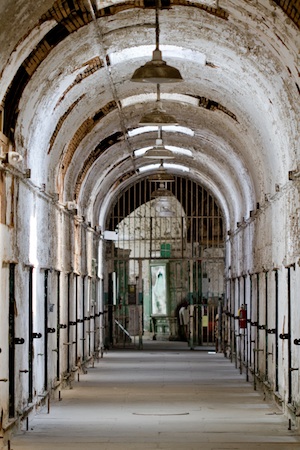 At the time, the Eastern State Penitentiary was the most expensive building for it's time – originally costing $780,000 (that's about 3,644 Benjamin® Aero Lights today). Its wagon-wheel or radial layout has impacted prisons around the world, with an estimated more than 300 worldwide basing theirs on this design.
While this building is packed with history, as is its lighting. Our photographer, Lauren, was able to capture photos of vintage warehouse shades used within the hallways of this historical landmark. You'll find the exact same styles as our exclusive porcelain lights. Such examples are the Benjamin Aero (shown above), the Benjamin® Union (right) and the Goodrich® Aero (shown below).
We're not sure when exactly these lights were installed within the prison, but you can tell it was a very, very long time ago. Both styles of lights sit idol today, still lining the desolate hallways during tours. Although the penitentiary was abandoned in 1971, today, it is undergoing renovations. Should authentic replica lighting be needed, you now know where to go!