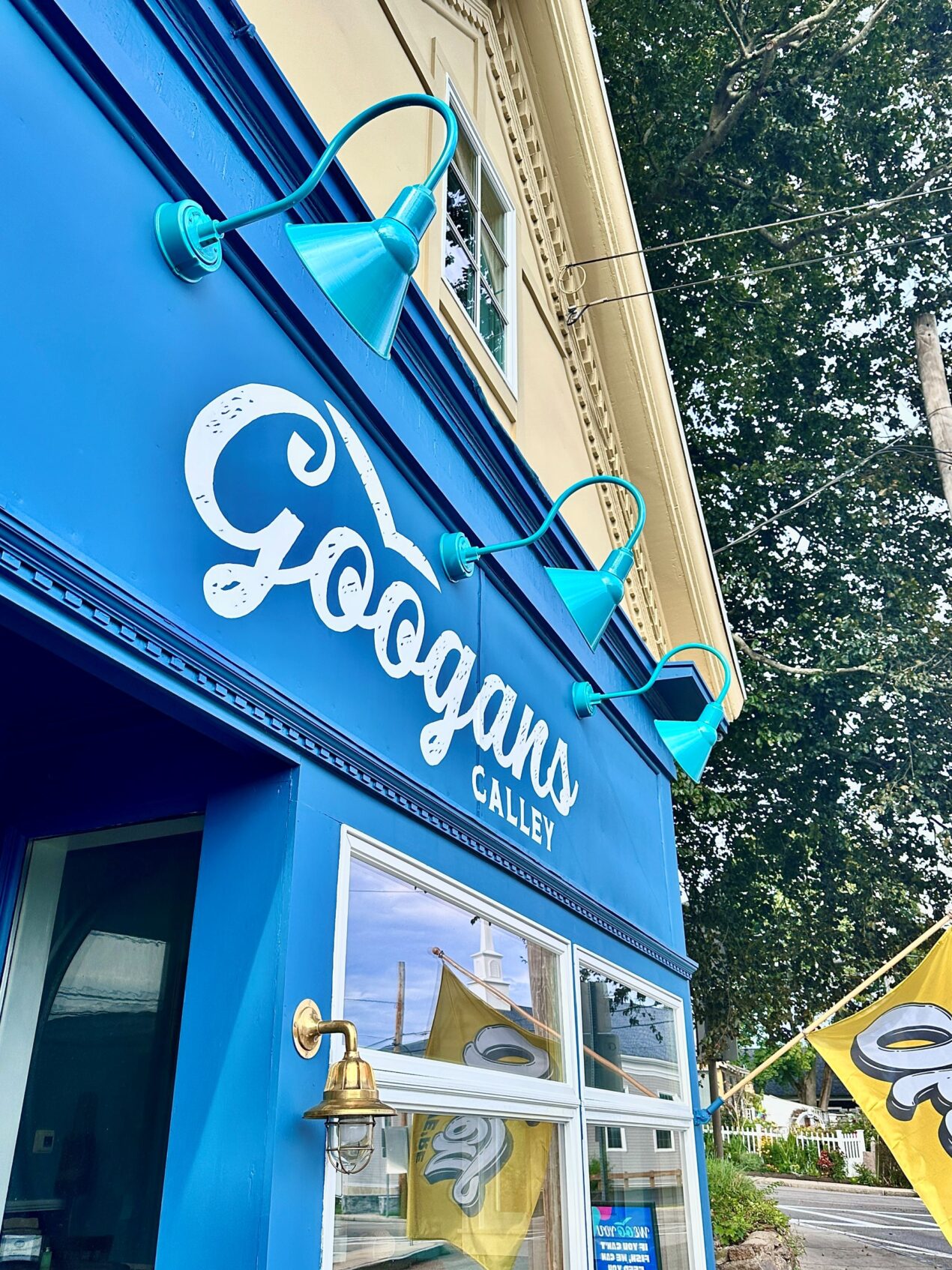 Vibrant LED Sign Lights Attract Attention, Save Energy
When Kimberly faced the task of remodeling a 130-year-old building for her new café, she wanted to respect the history of the space but update it to be more functional and inviting. Googans Galley opened last summer in the renovated building which has always housed a market, general store, or coffee shop through the years.
"We're an oceanside town on Cape Ann in northern Massachusetts, so I definitely wanted a bright and semi-nautical feel to the place," Kimberly says. "But I wanted something contemporary and cozy too as we're open year round and the winters can be dreary."
Kimberly started her search for sign lighting to highlight the improved store front on Pinterest. It was there that she discovered Barn Light Electric with its wide array of easy-to-customize lighting.
"I love all the customizing options that Barn Light offers and it was almost overwhelming!" she notes. "But I found that other suppliers didn't have the right shape or size, and absolutely NO ONE had the shade of teal I needed to match my branding." Kimberly selected the Fire Chief LED Sign Light for the building's exterior. She customized these handspun wall lights with 12″ shades in the perfect powder coat Teal finish, and G5 gooseneck arms.
"I knew I wanted gooseneck lights because the curved arm makes it feel like a wave on the beach," she explains. "I also wanted something that would add some dimension since the sign is painted. The lights popping off the building give it a three-dimensional look."
Kimberly also opted for the energy-efficient, environmentally friendly nature of Barn Light's LED options. She chose the 1250 lumens package, the 3000K color temperature, and the domed lens for her lights.
"LED options were important because I don't like fluorescent lighting or anything too white," she notes. "Having a warmer-toned light was important, and I needed something that would last a long time as I have no idea how I would go about changing them!"
Luckily for Kimberly, the integrated LED modules in Barn Light's American-made fixtures offer an average of 50,000 hours of service. Her storefront will be beautifully lit for years to come!
"None of the other vendors seemed to have anything comparable in quality. These really complete the overall design of my building and give it a polished look," Kimberly says. "Given that I could customize and get exactly what I wanted, plus the reviews on quality, I knew this was the right choice for us!"
Photos courtesy of Googans Galley