Uniquely Styled Gooseneck Barn Lights: The Turbine & The Cowboy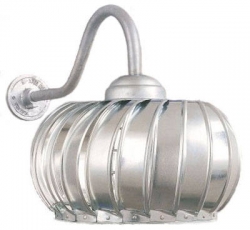 While many of the gooseneck barn lights found at Barn Light Electric are vintage reproduction models of the early 1900's, some of the lighting designs are uniquely inspired by industrial symbols and icons from the Atomic Era.
For instance, the vented, crown-like shade of the Industrial Turbine Gooseneck Light was inspired by wind activated metal turbines (also known as whirlybird roof ventilators). You'll instantly recognize the shade's style from the turbines that sit on the rooftops of commercial buildings and motor homes. Many of the turbines were made with a galvanized metal finish, like the one pictured, but with us, there are more than 30 different finishes to customize the Industrial Turbine with its surroundings. Today, the Industrial Turbine's features make it a great accent to any vintage themed retail space, gym or industrial farmhouse. It's available in a 9 inch, 13 inch or 20 inch shade – not to mention a variety of gooseneck arm lengths to mount them with. Other versions include the Industrial Turbine Cord Hung Pendant and the Turbine Rustic Chandelier.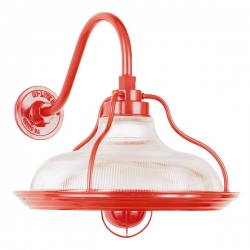 Another gooseneck light that touts a unconventional design is the Cowboy Warehouse Barn Light. It starts at $396.00 and is an excellent choice for those searching for unique, one of a kind lighting options. The Cowboy comes in a large, 18″ glass shade that's connected to a metal rim with four arms. To complete the Atomic Era look, the Cowboy can be paired with a cast guard and glass unit (note that these pieces extend just below the center of the shade). Unlike most of the warehouse shades sold at Barn Light Electric, the Cowboy's shade is designed to project light upward as well as below. Most barn lights are designed with RLM shades that cover the entire area over the light bulb and project all of the light completely downward. The Cowboy's translucent, ribbed shade makes it ideal for dining areas in restaurants or walkways in retail stores, where additional soft, upward facing light is desired.