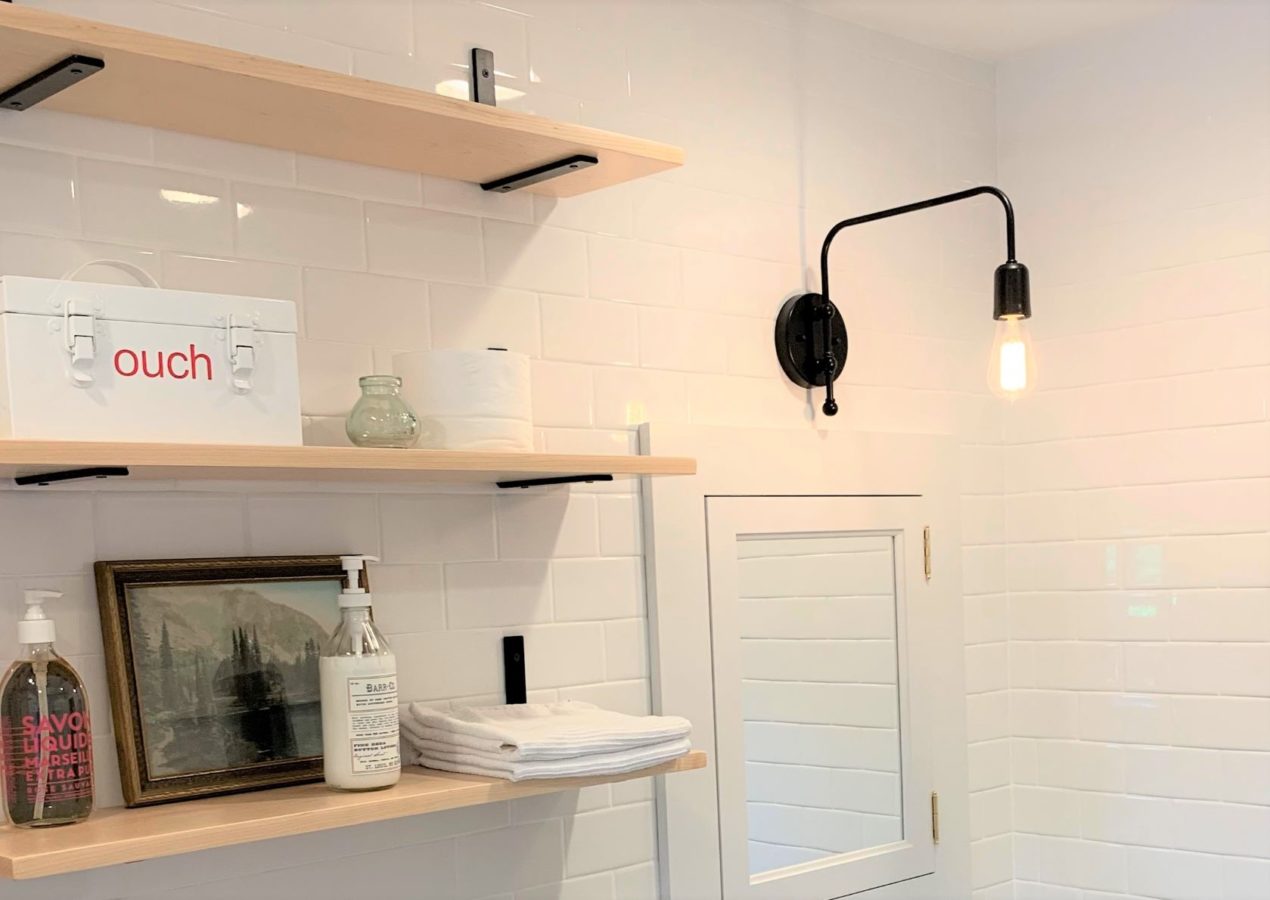 Wall Sconce Brightens Bath Remodel with Distinctive Style
When the team from Hunter Design & Build tackled two bathroom remodels in Mt. Baker, one of Seattle's oldest neighborhoods, extensive upgrades were needed to both the electrical and plumbing systems.
Once everything was brought up to code, project coordinator and designer Jana Hunter started with a clean, and safe, slate.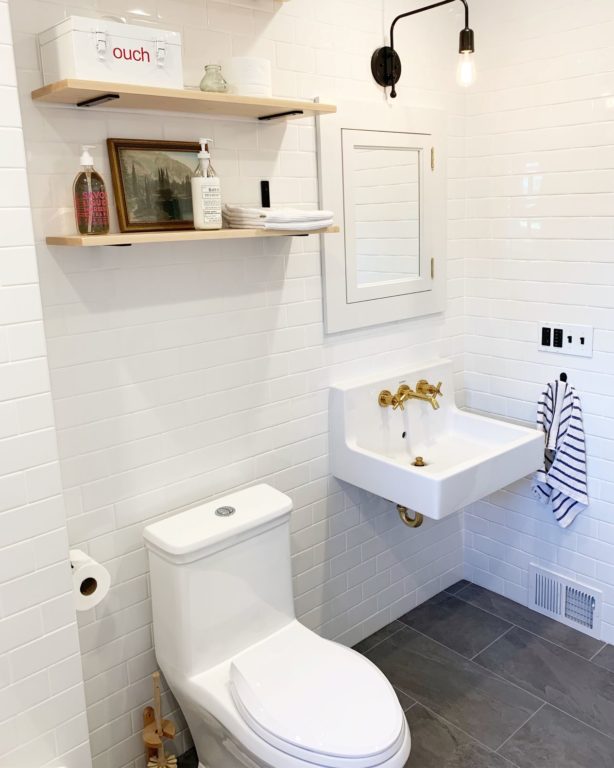 "The design direction from the beginning was classic, a little bit schoolhouse, with an updated appeal," Jana says. "The materials needed to be durable and simple." The color palette was a classic black and white with lacquered brass finishes adding a pop of warmth.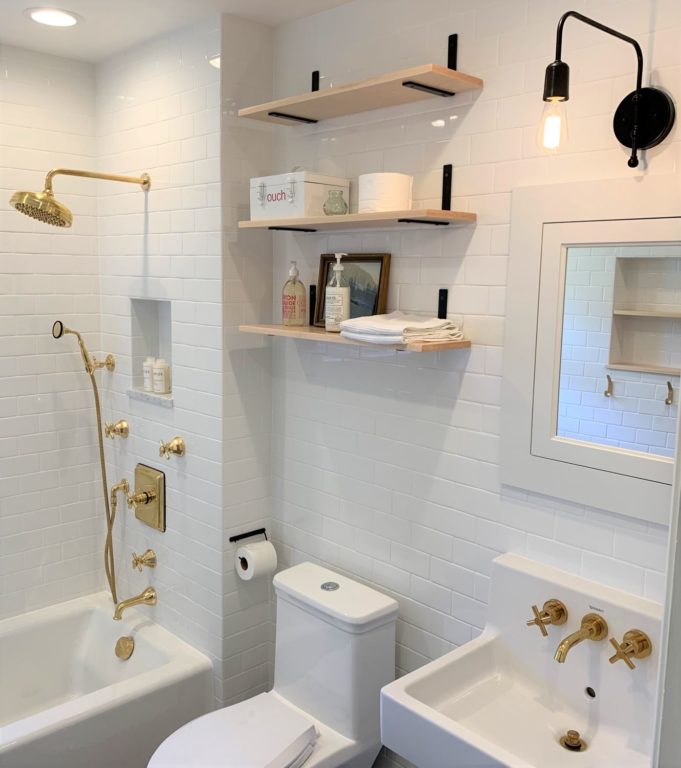 Jana's lighting plan called for a simple and practical fixture that could still make a design statement in the small space. She selected the Downtown Swing Arm Sconce as the perfect option. She customized this wall sconce with a Black finish and a G66 14″ arm.
"We love that the fixture can swing from side to side," Jana explains. "It's delicate and thin, yet solidly made. We also appreciate that it's American made."
The Downtown Swing Arm Sconce can be customized with one of more than 30 different finish colors to complement most any décor. Four mounting arms are available including two with swivel knuckles which allow even more positioning flexibility.
"The light is striking against the white tile and ties to the other black accessories like the light switches and shelving brackets," Jana notes. "The light blends with the design, but it pops because of the shape, material, and color. It has a uniqueness to it."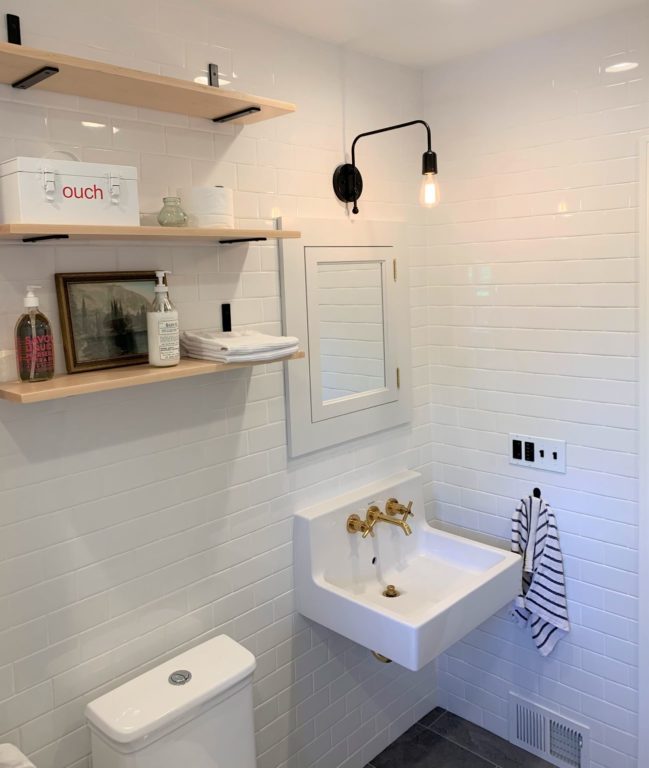 This minimalist wall sconce also comes in a plug-in version for those wanting portability in their lighting. And for smaller spaces, the Downtown Minimalist Adjustable Sconce offers the same sleek look as the Swing Arm, but with a smaller adjustable arm.
"I discovered Barn Light Electric many years ago when I was remodeling my own home," Jana says. "The client and I have always admired BLE so it was a natural place to look for the right light."
Photos courtesy of Hunter Design & Build