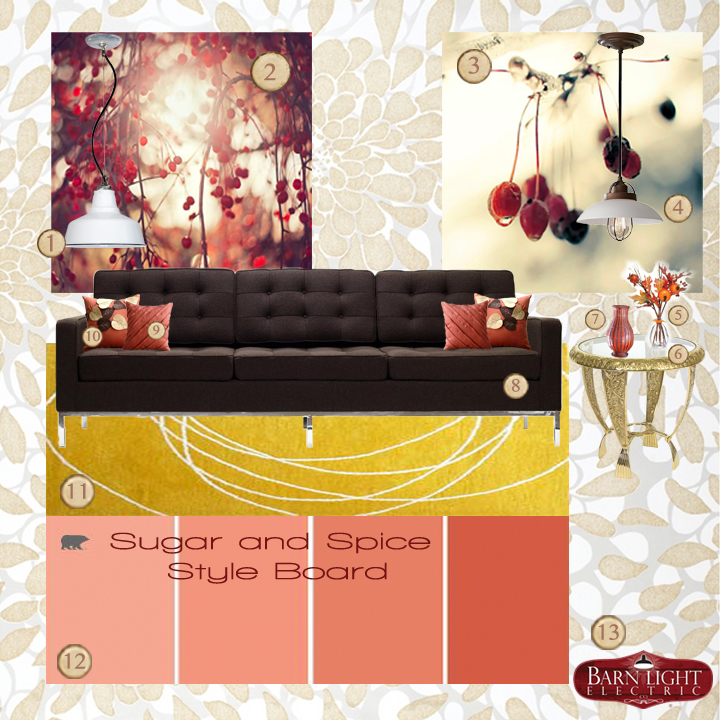 Style Me Sunday: Sugar & Spice Style Board
Sugar and spice…Makes a great combination for snicker doodles, ciders, and holiday potpourri. But what about living rooms designs? This is the perfect time of year to play around with warm hues and sprinkling white accents keeps the design fresh and relevant.

For this styleboard, neutral basics like the Toss the Bouquet metallic wallpaper, the Florence Style Sofa in Chocolate Brown Wool sofa and the Vintage Curved Leg Table in polished brass create the ideal foundation.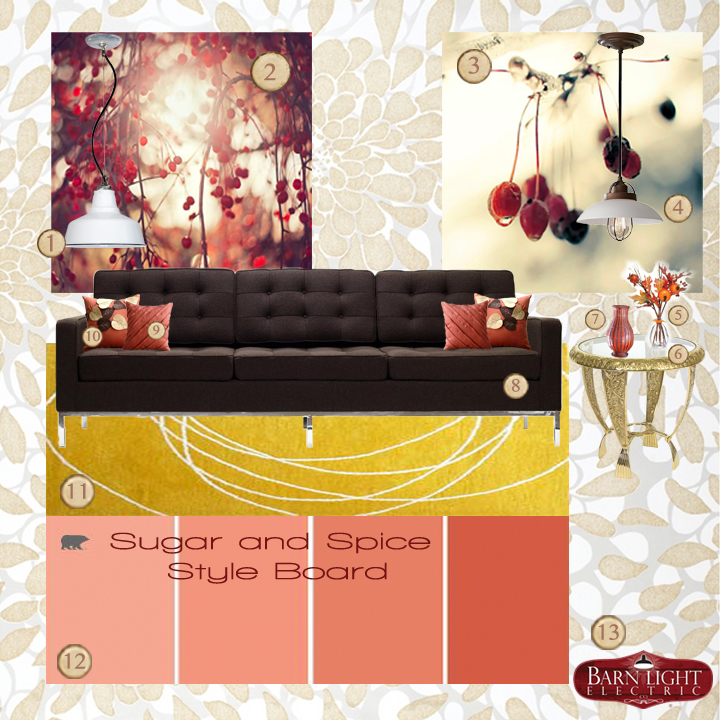 Now it's time to spice it up! If you find wallpaper a daunting prospect, why not incorporate cinnamon or nutmeg hues with a new coat of paint? Mustard may not be everyone's favorite seasoning; it sure makes a lovely hue for this modern rug! To match the rug's vibrancy, we've selected colorful accessories so that our eyes won't be transfixed on the floor. Beautiful salmon colored Decorative Throw Pillow Covers add festive textural contrast with the contemporary sofa's simple lines. On the side table, the Spiced Pumpkin Scented Flower Reed Diffuser adds a touch of autumn detail while filling the room with savory smells. And don't forget to add your vintage accessories! This Vintage Red Wicker Wrapped Vase adds a little cultural flair to your tabletop. Moving upward, lovely photographs of wild cranberries increase the freshness of this look.
But wait, what about the sugar? Vintage inspired pendant lighting not only adds extra illumination to this vibrant space, but the white shares are reminiscent of the sweet confectionary topping that we can't help but love. If you're looking for more industrial lighting, The Bronzed Wired Glass Pendant is gives a nod to Crouse Hinds Atomic lighting. If you like more classic, clean lines you might enjoy the Esso Studio Light. Inspired by traditional barn lighting, the Esso channels that all American look with a trendy studio mount!
Are you ready to add a little "sugar in spice" to your space?
1. Esso Studio Light by Barn Light Electric
2&3. Cranberry Photographs by Racetay
4. Bronzed Wired Glass Pendant by Barn Light Electric
5. Spiced Pumpkin Scented Flower Reed Diffuser by Yankee Candle
6.Vintage Curved Leg Table from Vintage Barn Lighting
7. Vintage Red Wicker Wrapped Vase from Redefined22 on etsy
8. Florence Style Sofa in Chocolate Brown Wool from LexMod
9. & 10. Decorative Throw Pillow Covers by TheHomeCentric
11. Modern rug featured on Ugly Duckling House
12. Paint Swatch from Behr 200B
13. Toss the Bouquet from York Designs