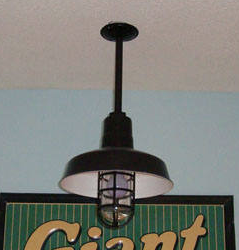 Stem Mounting Pendant Light Fixtures
Often our lighting customers inquire about stem mounting our Light Fixtures. Typically, any of our shades can be stem mounted instead of cord hung. Stem mounting a light fixture has several advantages. First, a stem mounted fixture is rated for wet locations where as a cord hung light fixture will not have this rating. Home areas such as the kitchen, bathroom and outdoor areas (porches and garages) that may be susceptible to moisture will be best served with a stem mounted light fixture. Stems for pendants can be manufactured to any length and finish desired. However, it is recommended to know the exact stem length because the stem will be threaded on both ends. Most of our customers do not have the ability to cut a stem and re-thread it to the desired length.

Another advantage of stem mounting a light fixture is stability. The light fixture will become rigid and will not move from wind or other objects that may hit the fixture. Finally, customers can order a Hang Straight Canopy with a stem-mount from Barn Light Electric Company that will allow the fixture to be installed on a sloped or angled ceiling. This option is not available on our cord hung fixtures. Below is a customer photograph of an installed 12″ warehouse shade (Stem Mounted) with a cast guard and clear glass. This fixture was installed in a bathroom above a claw-foot bathtub. We believe our commercial grade light fixtures are a sure fit in most residential lighting settings. And as always, multiple finish options are available.