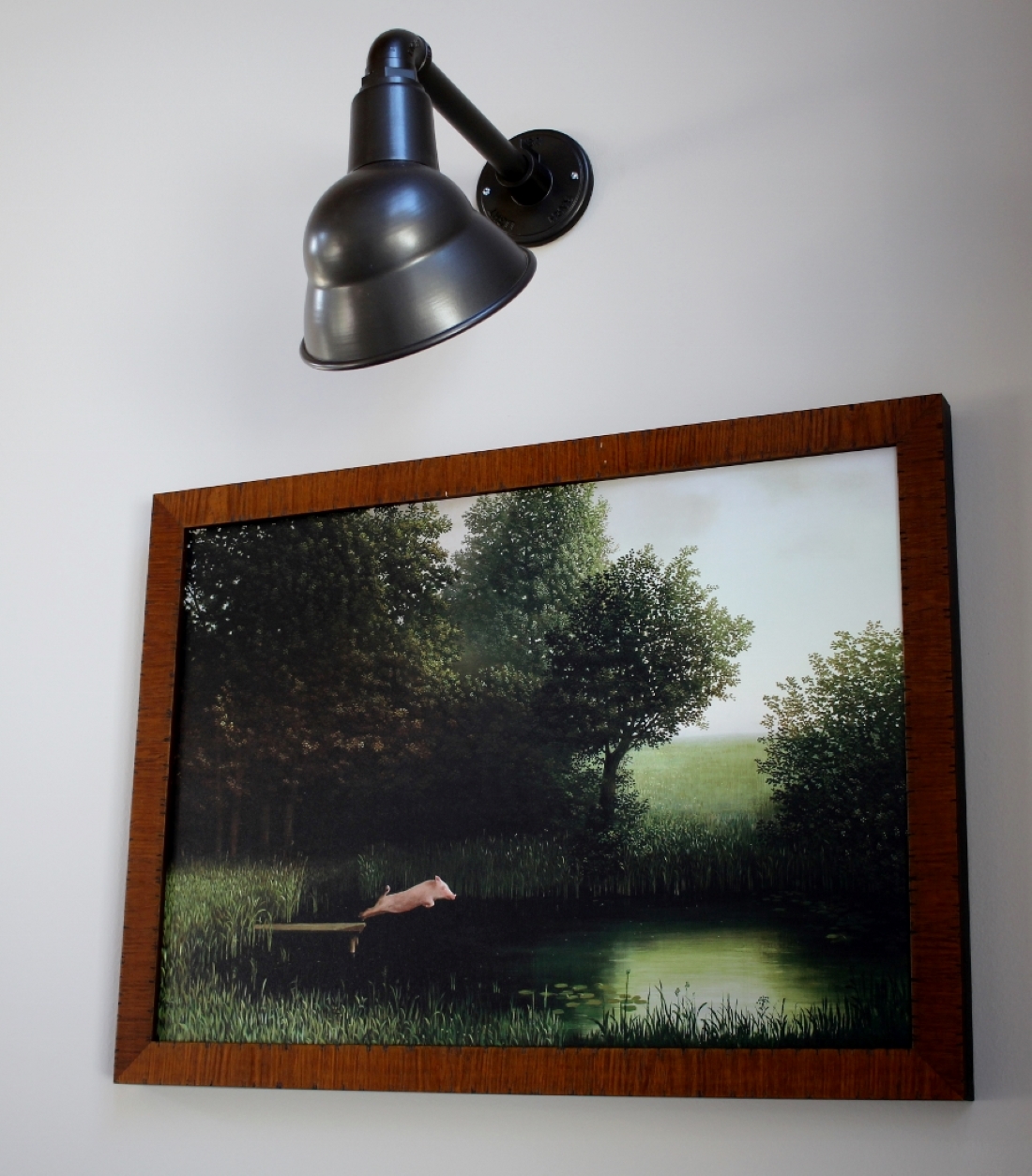 Sign Lighting Brings Touch of Elegance to Rustic Mountain Home
Wait…sign lighting? In the same sentence with the word elegance? Isn't sign lighting just a utilitarian fixture meant for shops, gas stations, and restaurants?
With apologies to Lee Corso, not so fast my friend.
Many homeowners have discovered that sign lighting is not only appropriate in a residential setting but can be stylish too. With the expanding numbers of shapes and finishes available, you can follow the lead of today's Featured Customer and use sign lighting to make a dramatic statement in your home.
Chuck and Jane moved to the small town of Fairview in western North Carolina almost two years ago. They purchased several acres of farmland and began planning to build their dream home.
"We chose this area because of its four gentle seasons, beautiful mountains, and friendly people," Jane says. "Plus there's great music and a vibrant food and art scene." Although Jane has retired from her 9-5 job as an interior designer, Chuck is an artist who is always creating with wood and metal.
As you walk through the front door of the recently completed home, your eye is drawn immediately to the towering stone fireplace and cozy seating area nearby. The steeply pitched wood ceiling with exposed rafters adds a rustic element to this soaring space.
"We were aiming towards a rustic elegance with modern twists and light!" Jane says. "So many homes built here are dark so we have windows everywhere and enjoy the sunshine flooding in daily." But on cloudy days and at night, Jane wanted uplighting to highlight the beautiful woodwork.
She chose six Emblem Sign Lights, installed facing upwards, to achieve the elegant look she desired. These American-made wall lights are customized with 8″ shades, a Bronze finish, and a G11 gooseneck arm. A swivel knuckle was also added to each light so it could be positioned perfectly.
"I chose the Emblem Lights because I hate recessed cans and the harsh light they emit," Jane explains. "We wanted something with an interesting shape that would illuminate the pitched ceiling."
By the front door, Jane used another matching Emblem Sign Light to highlight her "happy pig" picture. You can't help but smile when you see this adorable painting! This sign light features a G17 straight arm.
The rustic bench below was a treasure brought from their previous home in Houston.
Just outside the living space, a covered porch provides space for entertaining in the mild climate of the area. A Seaside Gooseneck Light highlights the doorway and matches a galvanized ceiling fan nearby.
This handcrafted gooseneck barn light is customized with a 16″ shade, Galvanized finish, and G6 gooseneck arm. The rugged elegance of the Barn Light Electric fixtures was familiar to Jane who discovered the brand while still in Texas.
"As a designer back in Houston, I had the pleasure of using Barn Light Electric fixtures on a B&B I worked on outside Jackson Hole," she says. "So I was familiar with the brand and anxious to use them in our dream home!"
Be sure to stop back on Friday when we continue our tour with a look at the exterior of this beautiful mountain home!
Photos courtesy of the homeowner who converted the original farmhouse on the land to a rental.