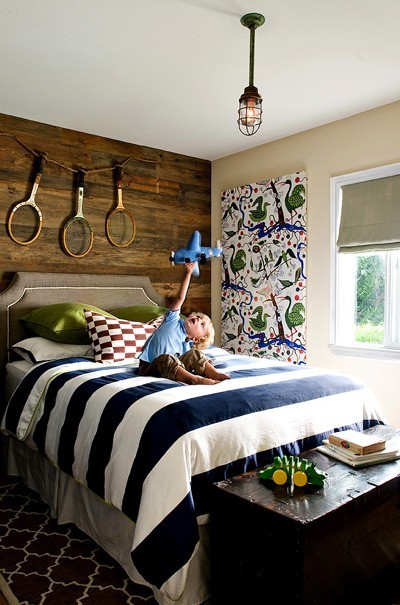 Rustic Wire Guard Pendant for a Child's Bedroom
A few weeks ago, we presented you with a small scale child's bedroom and gave tips on how to make the most of your small spaces. The bedroom today is relatively similar in size, but still big on imagination. Many of the elements in the room will grow with the child and won't need changed when Sesame Street and dinosaurs are no longer "cool."

When designing a child's bedroom, it's safe to start with a neutral pallet; this allows for any number of accent colors to be used throughout. The reclaimed barn wood wall is as rough and tough as the little boy who sleeps there, while the bedding and whimsical wall art brings in a variety of bold colors.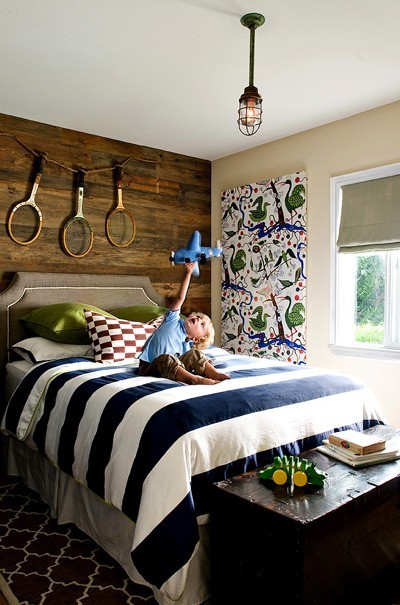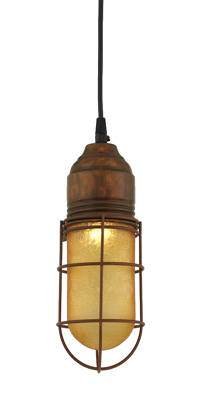 As for organization and storage, there is a large wooden trunk at the foot of the bed. These are great for storing anything from toys to schoolbooks and sports equipment; it could even be used as clothing storage later on. The large bed is higher off the ground, allowing for a great deal of storage space underneath. And speaking of, the room's designer also planned ahead and skipped a traditional toddler bed – going straight for a full size mattress that won't be outgrown anytime soon.
While limited floor space in a bedroom normally leads to lack of wall space, wall sconces may not be an option for lighting. With that being said, there should be plenty of ceiling space left which is where our ceiling lights come into play. Fitting in perfectly with the room is the rustic pendant centered above the bed. Similar to the the Barn Light Wire Guard Industrial Pendant, this classic vintage looking pendant ties together the rugged and rustic themes. Choose Rosewood or Galvanized finishes for a simple, yet timeless look.
Top Photo Courtesy of Blog Lines