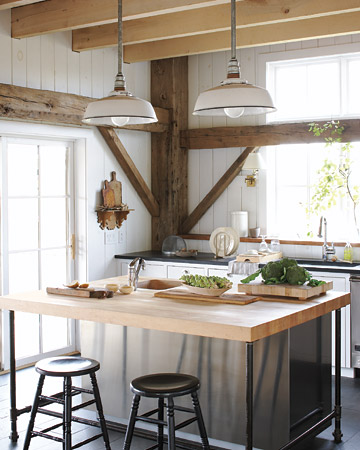 Rustic Kitchen Lighting Lessons From Martha Stewart
Providing that finished look in your kitchen can prove to be a challenge when it comes down to picking the right look for your project. Most newly crafted lights are too polished with brightly colored high-gloss finishes, which can be great if your kitchen is modeled with a retro decor, but if your tastes are more for rustic or industrial styles then the options are greatly reduced. With so many lights on the market, unless your desire is for a pendant that looks like wood or a woven tapestry of antlers, the options can be limited for the rustic decorator.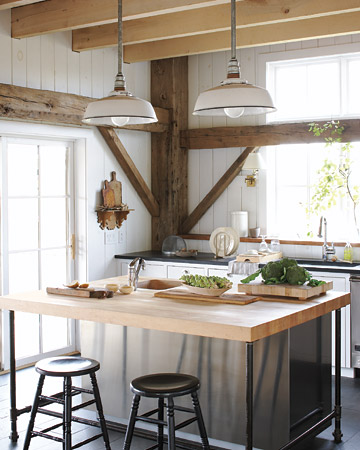 This featured kitchen comes courtesy of the Martha Stewart website, this room displays a rustic and refined barn home appearance that is completed with a mix of vintage industrial style, and a hint of modern-day flair. This established look is brought full circle with the addition of this pair of vintage porcelain RLM warehouse pendants positioned above the 3-inch thick maple island. With years of wear and use, these pendants prove to be the ideal, complementary piece that ties this rustic kitchen together. Accentuating the worn timber framing and blond colored crossbeams, these pendants provide a rugged appearance through the lights already established industrial heritage. With a mix of steel and white bead board, this unlikely blend of country charm and warehouse nostalgia is the perfect setting for these two factory pendants.
Driven by a love for nostalgia, Barn Light Electric offers pendant lighting that is both old and new to complement any room in your home or to give that authentic look to your barn project. Featuring several classic RLM lighting designs from Benjamin®, Appleton, and Crouse-Hinds, our vintage barn lighting and vintage industrial sections supply numerous stylistic variations from the early to mid 20th century.
If options and flexibility are what you need then you can recreate this vintage look with the use of one of our custom warehouse pendants, which recapture the timeless appearance of some of the most revolutionary lights from our past. These hand crafted American-made lights are made with your personal needs in mind. Complete with a long list of finish choices and other customizing features, these pendants are made to order, ensuring that they match your specific needs and unique personality.