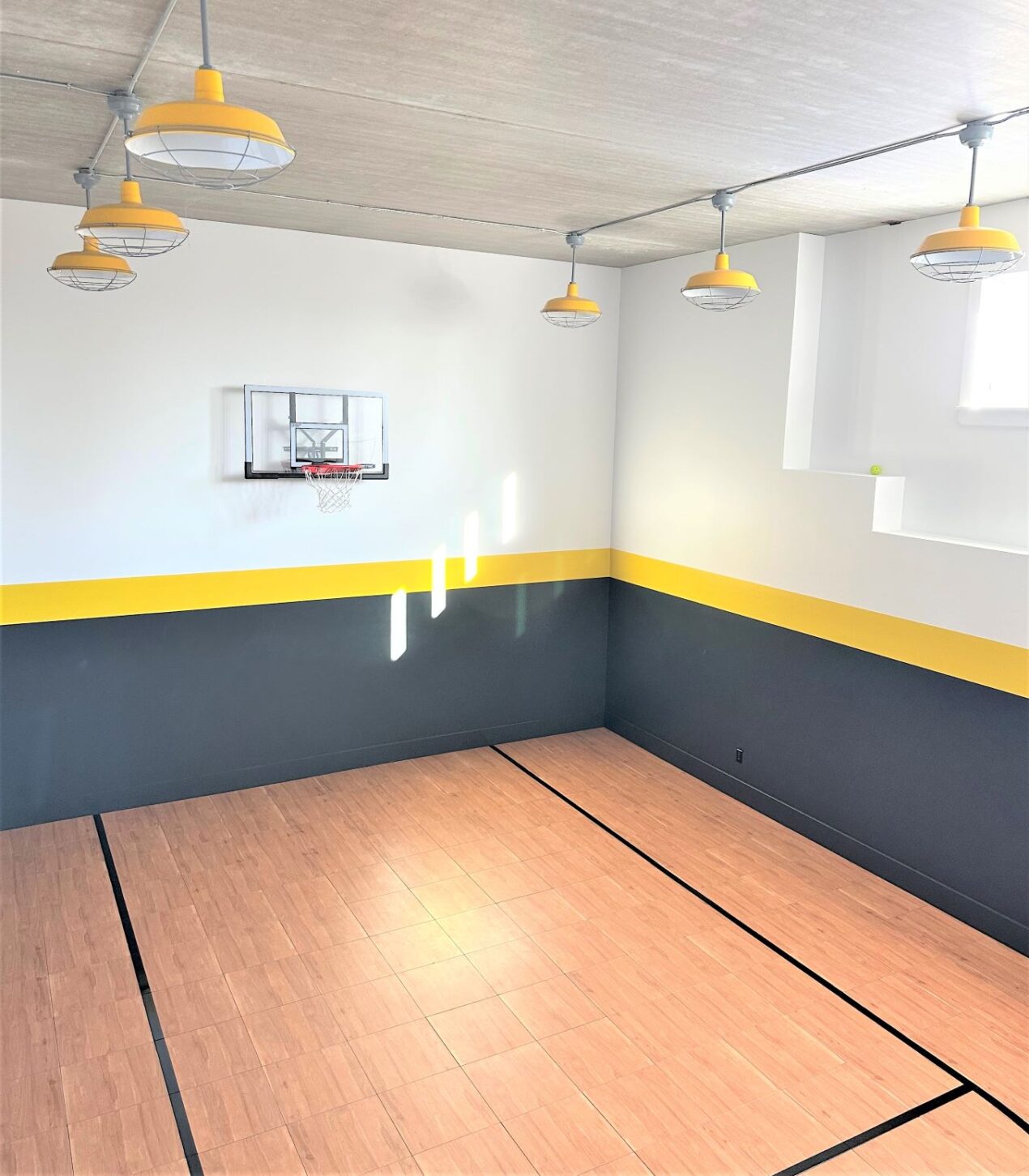 Rugged LED Lighting a Winner in Sports Court Renovation
Interior designers possess a special talent for looking at a space and reimagining it as something completely different. When designer Kirsten Arrix of Evergreen 11 took on the remodel of a home in Ludlow, Vermont, one space offered a completely blank slate.
Located in the lower part of the house, the room was little more than a concrete floor and four walls. The family of four loves to play sports together and entertain friends so Kirsten got to work transforming the empty space into a multi-use sports court. In addition to the basketball goal, there are hidden cleats in the walls for volleyball and badminton nets.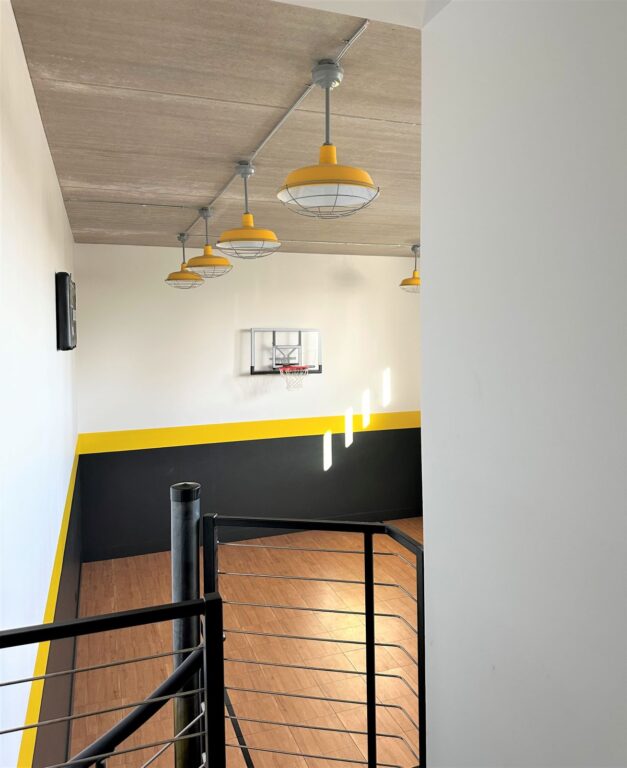 "We wanted the look to be easy and neutral with a bit of glam," she says. "The court walls are black and yellow as the family members are huge Pittsburgh Steelers fans." When it came to lighting the space, Kirsten turned to Barn Light Electric for easy-to-customize and durable fixtures.
"I have used Barn Light before and love their products," she explains. "The variety of colors, the simple, clean look, and sturdy quality is perfect for the space."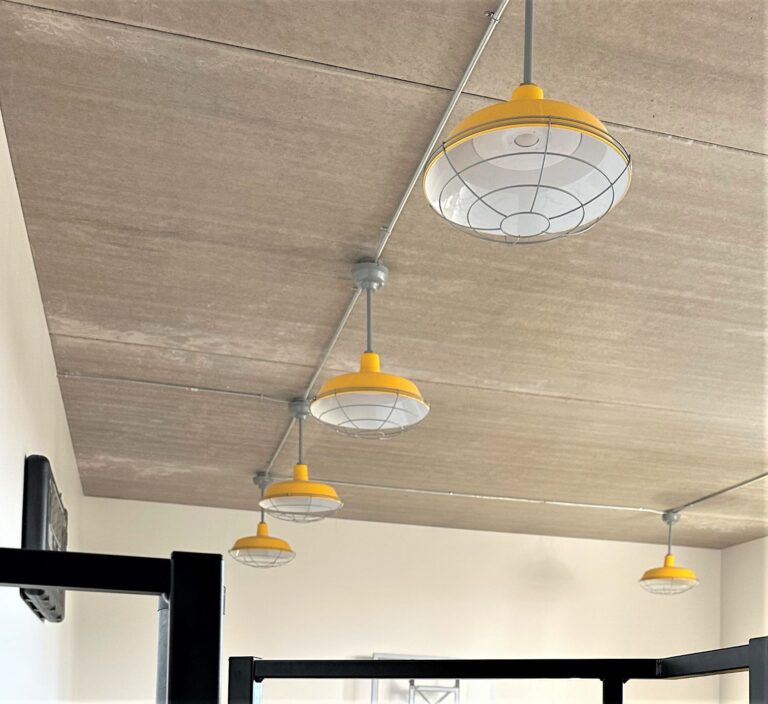 Kirsten selected The Original™ LED Stem Mount Pendant to serve as the main source of lighting. She customized these handspun pendant lights with generous 20″ shades, a Buttery Yellow finish, and a contrasting Industrial Grey 12″ stem. She added the optional wire cage also in the Industrial Grey finish.
"These finishes are perfect Steelers colors!" she notes. "In a sport court where balls are flying around, we needed the lights close to the ceiling but low enough to light up the court. And we needed the cage to protect the bulbs when balls fly around."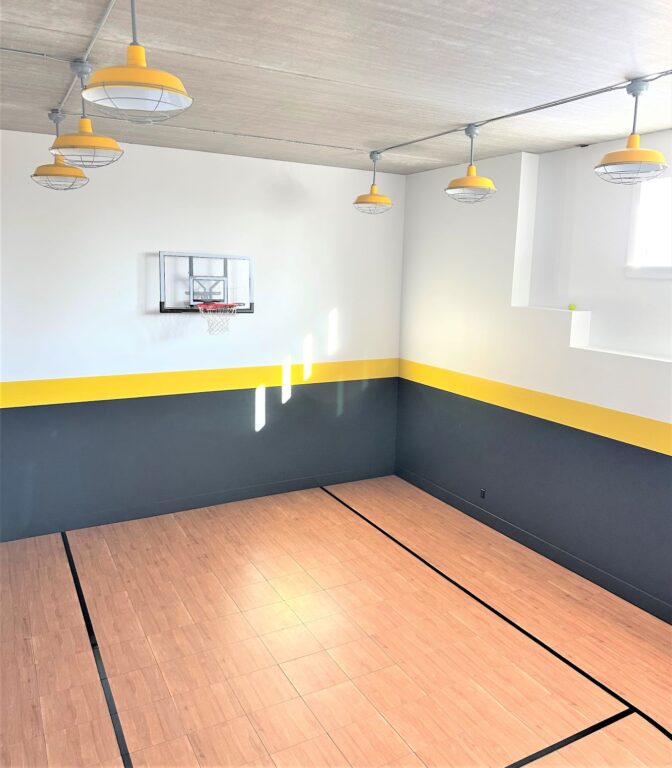 For the LED options, Kirsten chose the 4000 lumens and 3000K color temperature with a flat lens. She adds that with the high ceiling, these options help provide a good amount of light in the room.
"We wanted each piece of this renovation to speak to the location and the homeowner's passions," Kirsten says. "They love the bright color of these fixtures and the terrific light they give off."
Photos courtesy of Evergreen 11