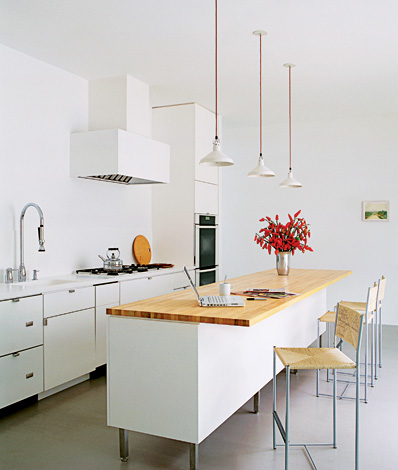 Red Cotton Cords Bring A Minimalist White Kitchen To Life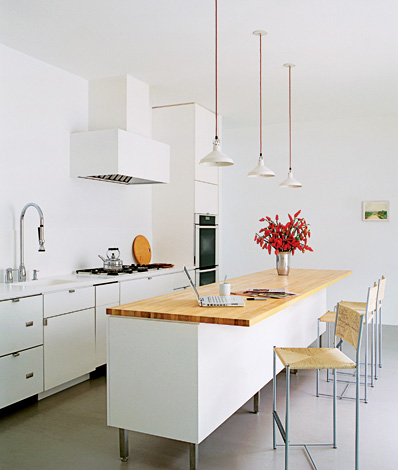 For the minimalist Ikea fans in all of us – this post is for you! Clean lines, clutter free and just the right amount of color – Selldorf Architects hit a home run when designing this Sag Harbor weekend home for celebrity hairstylist, Kevin Mancuso.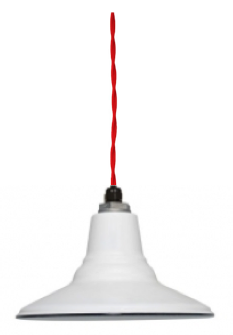 It isn't often that you find such contemporary pieces paired with something vintage. Distributed along the lengthy island workspace are three vintage pendants. They are each only approximately ten to twelve inches in diameter, but because of their flared shade design, they distribute an equal amount of light across the surface. They appear to be spaced about two feet apart – just the right spacing to cover the island and provide the three bar stools with an individual amount of focused light.
If vintage pendants aren't in your budget or you are unable to locate several of the same style, our line of Ivanhoe® Pendants might be a close match to the styles shown today. For the closest resemblance, we recommend our Ivanhoe® Aero with a red cotton twist cord. Not many people know that we offer such unique combinations, but our red cotton twist cord will look fantastic with any of our black or white porcelain enamel shades. Both black and white light fixtures are widely used among modern designers today and combined with the glossy porcelain exterior, the lighting will become an ultra sleek focal point in a room.
The Ivanhoe® Aero isn't only limited to those finishes. In fact, there are several other eye catching choices like blue, yellow or jadite green – just to name a few. And the best part is that you can design the Aero to be used indoors or out. Both Goodrich® and Benjamin® choices are acceptable for outdoor use so you can spread your contemporary design scheme all around!
Photos Courtesy of Elle Decor