Radial Wave Shade Adds Delicate Touch to Bathroom Vanity
This beautiful bathroom is nestled in a home located on Sunset Beach, a charming island community in coastal North Carolina. The home, designed by Blue Sky Building Company, has a light and airy beach feel running throughout with shades of blue and green and touches of the seashore at every turn. We love the vanity mirrors adorned by seahorses, crabs, and sea shells all lit up by delicate barn pendants. These are similar to our Barn Light Radial Wave Flute Pendants which feature the traditional fluted design of our larger Radial Wave shades but in a smaller version. The wavy pattern of the shade adds yet another dimension of the sea to this beachy bath.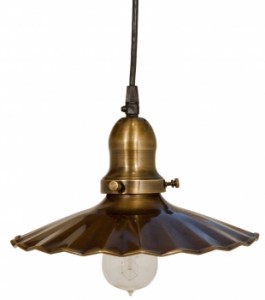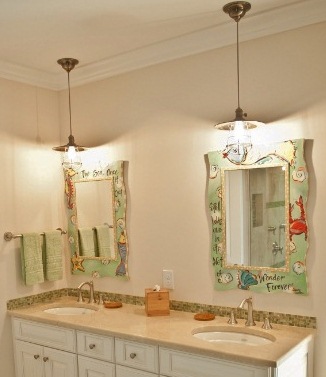 Radial Wave shades were originally used in the early 1900's and served a more utilitarian purpose. Today, we love these shades for their aesthetics as well! Although small, these classic lights work well in kitchens, bathrooms, office spaces, and reading nooks.
The Radial Wave Flute Pendant comes in three shade sizes starting at a diminutive 9″ width. This very versatile light comes with dozens of customizing options with more than 55 finish colors to choose from. These range from traditional looks of black, bronze, or galvanized to more retro colors like satin steel, trans blue, or cruiser green. The cup comes with or without arms and has the same lengthy list of finish colors. If you are aiming for a vintage look, don't forget to browse our complete selection of Nostalgic Edison Style Light Bulbs.
And if you love all things vintage, don't miss out on our Graniteware Sale going on now! Our new vintage-inspired Graniteware finish is available in our Ivanhoe® Sinclair & Ivanhoe® Conoco Collections as well as in our Stem & Loop Collection. Add a sprinkle of vintage to your favorite space with one of our new graniteware finish pendants!
Top photo courtesy of Blue Sky Building Company