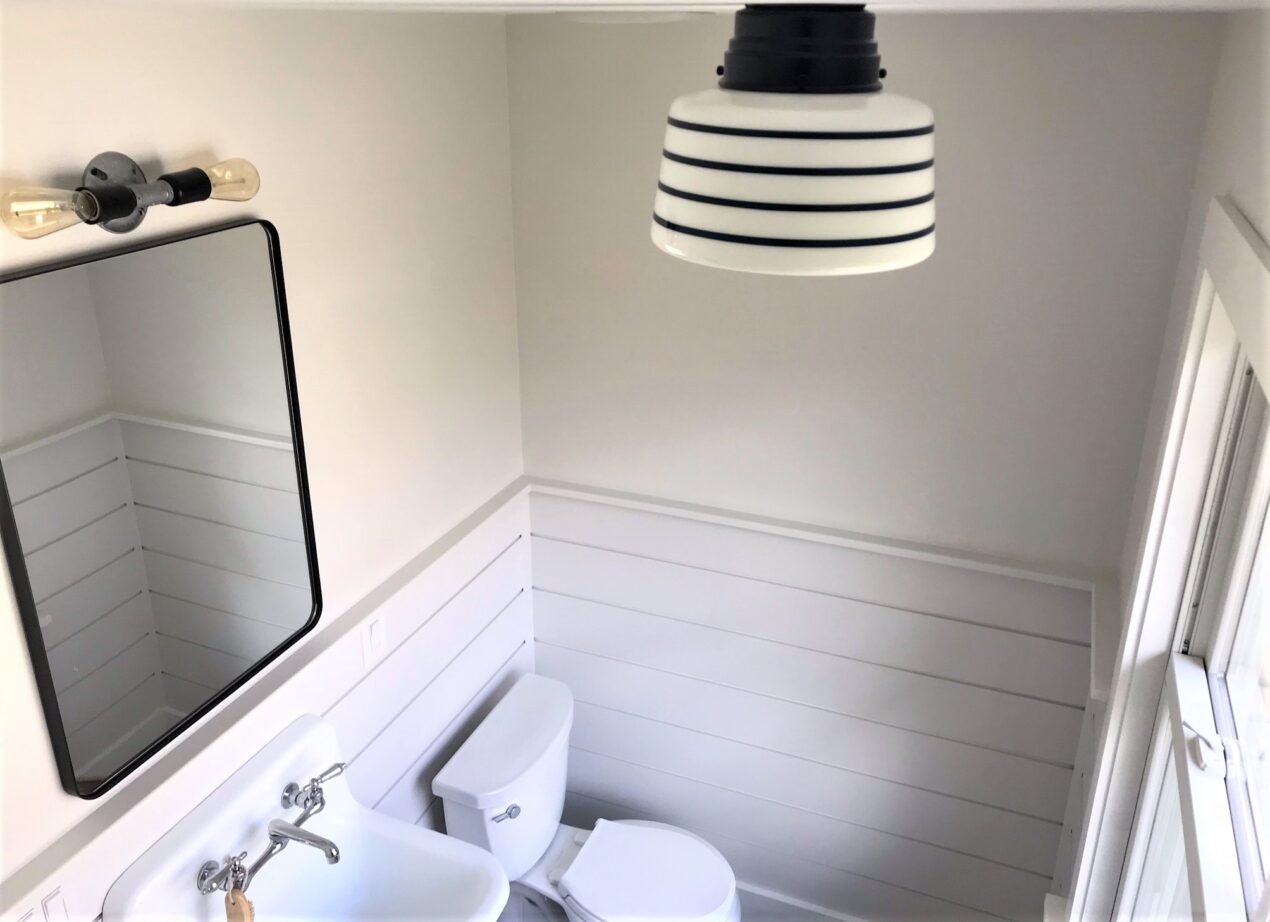 Quality Craftsmanship, Customizing Options Draw Homeowner Back
The renovation list for a 60-year-old home can be daunting. But Mary fell in love with the classic two-story colonial she and her husband Joel purchased in Oakmont, Pennsylvania. Nestled along a wooded area near the Allegheny River, the home has a touch of Frank Lloyd Wright style, and Mary wanted to create "a relaxed vibe with a calm backdrop to let life happen."
"There have been minimal upgrades since its construction," Mary says, "which gives us the opportunity to invest our love and design into its strong bones." After replacing all of the windows and doors, exposing and refinishing the hardwood floors, and repainting throughout, Mary set her sights on the half bath near the entryway. She chose a white glazed cast iron utility sink to bring function and beauty to the small space.
"The deep sink is easy for washing hands but accommodates other needs too," Mary explains. "The perfect fixture to complement it was the Downtown Minimalist Double Sconce." She customized this American-made wall sconce with a Galvanized mounting, a powder coat Black cup finish, and 1910-era Edison light bulbs.
"I love the simplicity of the design of this sconce along with providing excellent light," Mary notes. "The galvanized base is classic to industrial design which matches the sink."
In the center of the room, Mary opted for a Drum Schoolhouse Flush Mount Light. She customized this vintage-style fixture with opaque glass, a Navy fitter, and four painted bands of matching Navy.
"The Drum Schoolhouse fixture brings a classic design with the ability to customize to get the exact look desired," Mary says. "I love how the Navy fitter carries into the band color. And the four thin bands are more subtle and petite which was important for an overhead light. So far, this may be my favorite fixture."
Mary and Joel have more work ahead as they tackle additional renovation projects. She notes that Joel prides himself on attention to detail and strives to bring perfection to each of these spaces.
"Barn Light Electric also exudes perfection," Mary says. "I love the beauty, functionality, and quality of craftsmanship of our lights. From the ease of their website, help from customer service, to safe packaging, shopping with Barn Light Electric is a wonderful experience."
Photos courtesy of @WoodsAndWhim