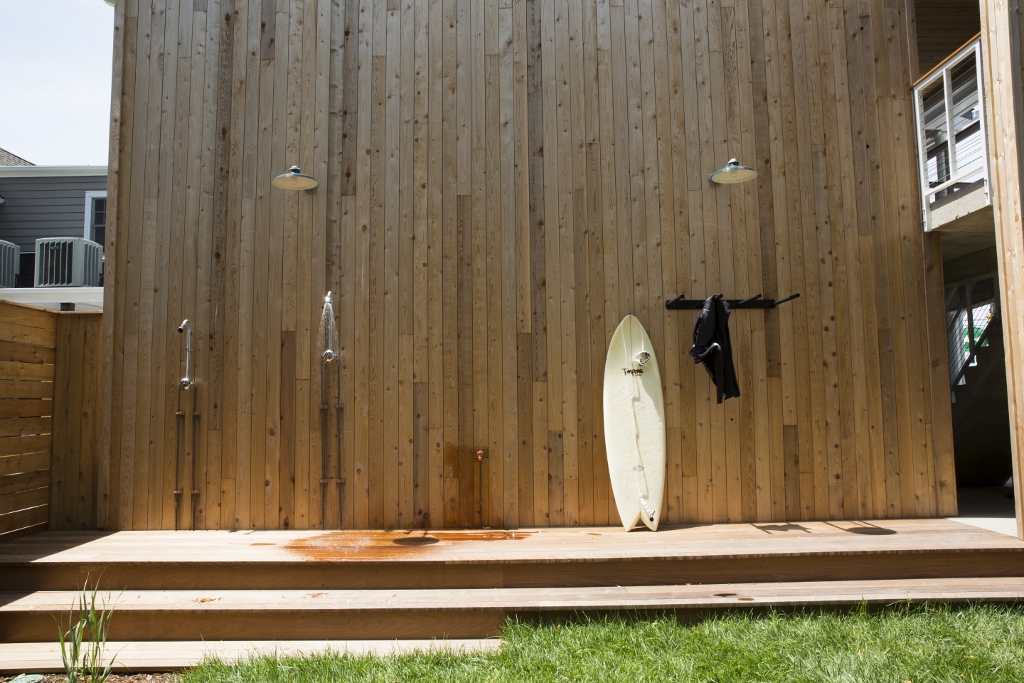 Q&A with Studio Tack on Beer-Themed Coastal Getaway
With the explosion of craft breweries all over the country, more and more people are enjoying the never-ending menus of full-flavored brews and seeking out new venues where they can enjoy them. When Brian Smith, partner at Studio Tack, a design firm in Brooklyn, heard that master brewer Sam Calagione wanted to open a beer-themed getaway, he jumped at the opportunity to be part of its creation. We talked with Brian about the recent opening of the Dogfish Inn located just off Rehoboth Beach in Delaware.
Q: This was a complete overhaul of an old motel. What was it like before the renovation?
A: It had that old, nostalgic American motel vibe. Maybe too much nostalgia with carpeted rooms, wood paneling, and vinyl bathrooms. What the space did have was amazing potential with great outdoor spaces, classic motel breezeways, and a cottage large enough to hold a guest suite, office and a large communal gathering space.
Q: What was your design direction as you worked on the inn? What feel were you going for?
A: We wanted to embrace modern styles and conveniences while championing that by-gone era of family vacations, big cars, and endless summers. We wanted it to be bright and airy and layered with textures. We worked with artists, craftsmen, and textile makers across the country to make custom pieces and patterns that reflected that Dogfish off-centeredness.
Q: Why did you choose the Marathon Gooseneck Lights for the exterior?
A: We loved the timeless aesthetic and utility of the lights. The motel is down the street from the beach so we definitely wanted to include some sort of reference to the water. We love how they look against the motel's cedar wall with the outdoor showers — a nice reference to hanging out on a dock with your friends.
Q: And why the Dark Green finish color?
A: We wanted to complement the Dogfish greens with something darker, more rich. They also coordinate with the custom Woolrich blankets in the guest rooms.
Q: What qualities were important to you where the exterior lighting was concerned?
A: For us, the look and feel of the Marathon was perfect for the backyard area. They help light the outdoor shower and the deck, but they also help contribute to the overall look and feel of a motel centered on celebrating an outdoor, communal spirit.
Q: What do you and the owners like best about the lights?
A: The Marathon Lights help add depth and texture. They're also great because they help cast light away from the walls and towards gathering areas. We really like the cantilevered effect.
Q: How long have you been in business?
A: Studio Tack has been in business for about two years and we are located in the DUMBO neighborhood (Down Under the Manhattan Bridge Overpass) of Brooklyn. Right now we are mainly hospitality focused, but we also design residences and civic-minded buildings. We love designing environments where people come to relax and enjoy themselves.
Photos courtesy Jonathan Baskin and Dogfish Inn