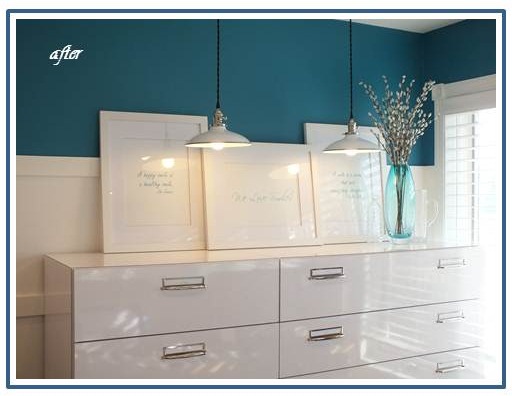 Professional's Corner | Before & After Pics Reveals Dramatic Change
With so many people dreading their visit to the dentist's office, Dr. Janice Stewart of the Southport Dental Clinic wanted her reception area to be pleasant and inviting. She was faced, however, with a small and unattractive space in her office located in Stratford, Prince Edward Island, Canada. Knowing when to call in an expert, Dr. Janice contacted Carol Fisher of Carol Fisher Display and Design.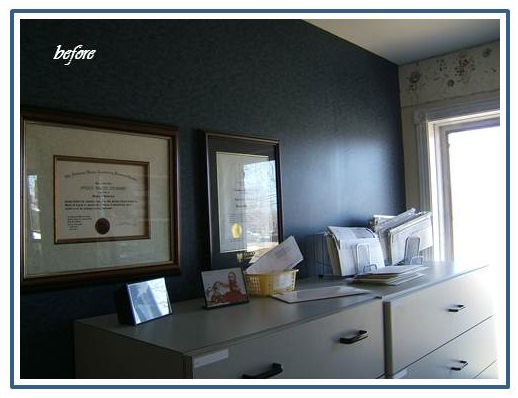 "The reception area was very small, dark and closed in, explains Carol. "It lacked a focal point with only a small hole in the wall to see the receptionist!" So Carol got to work opening up the space, changing the wall color, and highlighting the new area with porcelain barn lighting.
"We opened up most of that wall, adding in a stainless steel counter top," Carol says, "and we had the existing filing cabinets resurfaced in a glossy white laminate." After an online search, Carol discovered Barn Light Electric and fell in love with the Ivanhoe® Sinclair Industrial Porcelain Pendant in a White finish with a black cotton twist cord.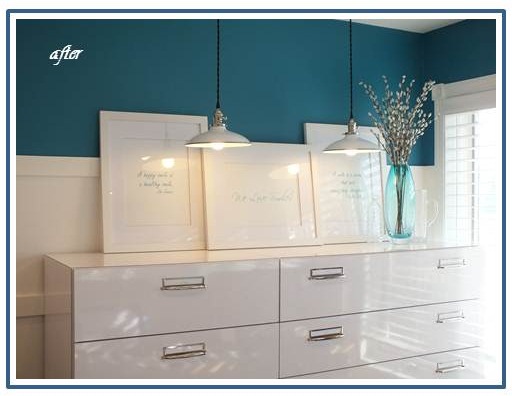 "I was searching for something different that fit my client's modern rustic-country style," Carol explains. "And the pendants were the perfect addition. They're the stars in this focal point and we just love them! The quality is amazing!"
Like all of our porcelain enamel lighting, the Ivanhoe® pendants are handcrafted right here in America by our very own craftsmen who hand spin the shades from commercial grade steel. Two coats of porcelain enamel glass are also hand applied then the shade is baked in a 1600-degree oven to produce the signature glossy, long-lasting shine. This finish will never fade and requires only a soap-and-water cleanup.
And this weekend you can take 10% off qualifying items during our annual Thanksgiving Sale including all of our porcelain enamel lighting such as our Goodrich® goosenecks, Benjamin® stem mount pendants, and Wheeler™ wall sconces. Just enter "GIVETHANKS12" into the discount coupon field located on either the checkout or cart page.
Photos courtesy Carol Fisher of Carol Fisher Display and Design