Popular Gooseneck Lights Found At Barn Light Electric®
At Barn Light Electric Co.® , you'll find the largest selection of gooseneck lights available online. Gooseneck barn lights have returned to mainstream design for homes and businesses across the country. One of the main reasons these lights are so loved is their versatility to bring a rustic and vintage American look to virtually any space of your home or office. With numerous finish options and one of a kind optional cast guard and glass units, these light fixtures can provide a unique or modern look when used as sign lighting, security lighting, or decorative accent lighting. Many of our lights at Barn Light Electric Co.® are American made – including the four featured below!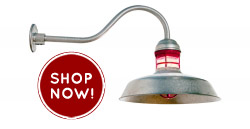 A great example is the the Outback Warehouse Shade, which is the ideal fixture if you're searching for gooseneck light that combines both functionality and design. The Outback is available in more than 40 different gooseneck arm lengths, and comes with a unique cast guard and glass feature. When pairing a galvanized shade with a red cast guard, you can bring a one of a kind look to your home or business. It is these features that make The Outback a great accent to any porch, driveway, or space where you may desire a fully functional and aesthetically pleasing warehouse light. The Outback starts at $272.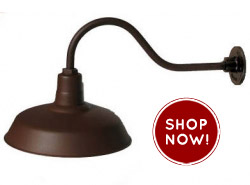 In addition The Outback Warehouse Shade, other popular gooseneck barn lights include:
The Original Warehouse Shade : Available in shade sizes of 12″,14″ and 16″ with the option to add a wire cage or guard and glass unit. Several styles of gooseneck arms are available in various lengths. Original warehouse shades are often seen on the exterior of restaurants, garage lighting and retail stores. The Original starts at $208.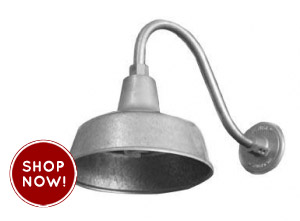 The Artesia Warehouse Shade : With a compact gooseneck setup and a smaller warehouse style shade, The Artesia has the vintage-inspired appearance that consumers have been searching for. It's available in shade sizes of both 8″ and 10″ and comes in a large selection of finishes and gooseneck arms. Common uses for this small gooseneck light include bathrooms, front porches, and garage lighting. The Artesia Warehouse Shade starts at a price of $168.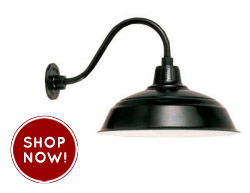 The Old Dixie Warehouse Shade : Available in shade sizes of 11″, 13″, 15″ and 17″ with multiple gooseneck arm lengths to meet the unique spaces of your home or office. It starts at a price of $218. These light fixtures are based on the original vintage warehouse shades which were primarily used for agricultural and commercial purposes. The Old Dixie is a must for any home remodel project! Regardless of the color, size or style of gooseneck light you choose, you'll be buying a fixture built with using the highest quality materials, just as they were almost 100 years ago.