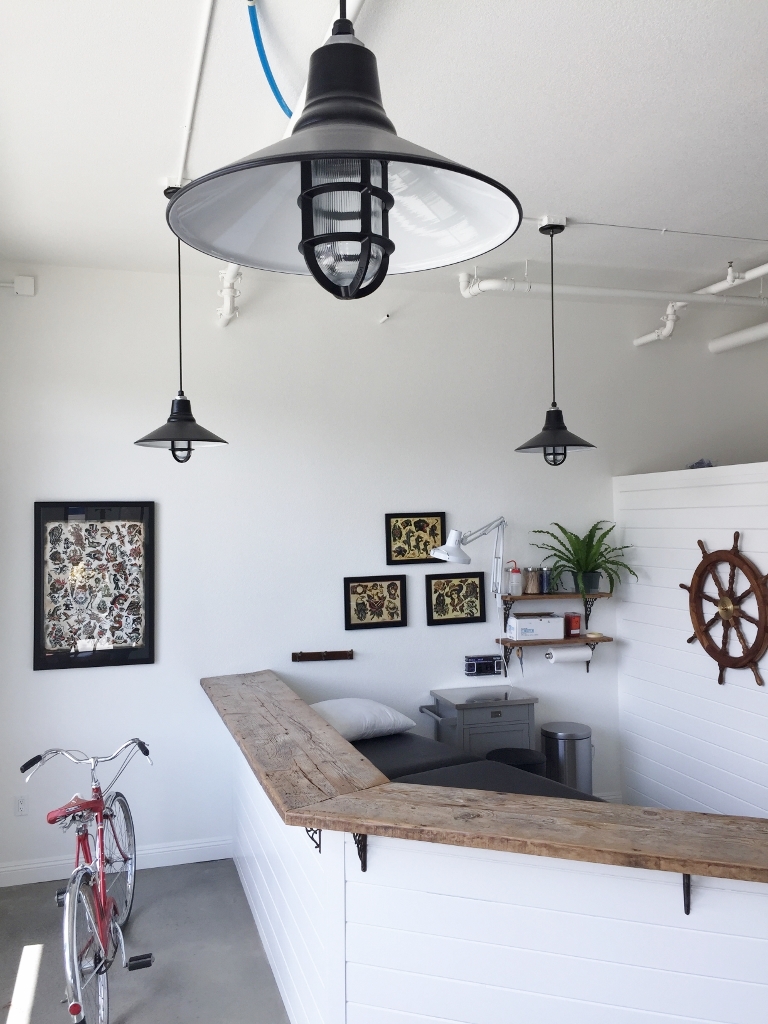 LED Pendant Lights Bring Nautical Flair to California Tattoo Shop
When Aaron and his wife, Trudy, searched for a place to establish Hidden Coast Tattoo in Sebastopol, California, they discovered that landlords often have preconceived notions about the tattoo community. When they finally found space available with an amenable landlord, they weren't thrilled with the builder-basic, bland space.
"Nothing about the space screamed creative or cool," Aaron says. "We wanted a funky, old building that had character, and this was basically a new strip mall. But this was the only space that would rent to us, so we spent two months building it out and worked hard to bring it to life."
With a degree in fine arts, Aaron brings a talented hand to his work along with a long-standing love of the sea. The couple wanted to imbue a nautical theme for their new shop without going overboard. They installed shiplap on the front counter, reclaimed redwood counter tops, and added nautical touches like a ship's wheel and figurehead on the walls.
When it came to lighting the new space, Aaron notes that his number one priority was buying American-made lights.
"We had an immediate connection with Barn Light Electric," he adds. "We picked out the Aero Nautical LED Pendant to round out the look of our shop. We had fun deciding on which style, color, and guard. We would stay up late after the kids went to bed and click on every option on the website until we found what we liked within our budget."
The couple customized their new LED pendant lights with 16″ shades, a Black finish, and standard black cords. They also selected the heavy-duty cast guard, ribbed glass, and the 3500K neutral white color temperature.
"These are reminiscent of when I was in the Navy working in the hull of the ship's engine room," Aaron recalls. "I knew I wanted a guard on the bulb for the full maritime effect." The 10 pendants bring warm light throughout the shop and complement the colorful artwork on the walls.
"The design of the lights really make the space charming. When people walk in the door, you see them stop, look around, and take it all in," Aaron says. "People feel comfortable in the space right away, and that was our number one goal with the shop. We want everyone to feel welcome and comfortable in our tattoo shop."
Photos courtesy of Hidden Coast Tattoo