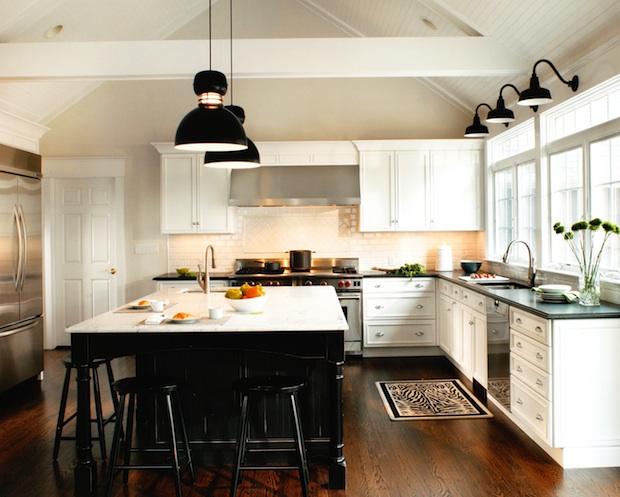 Featured Customer | Patty from New Jersey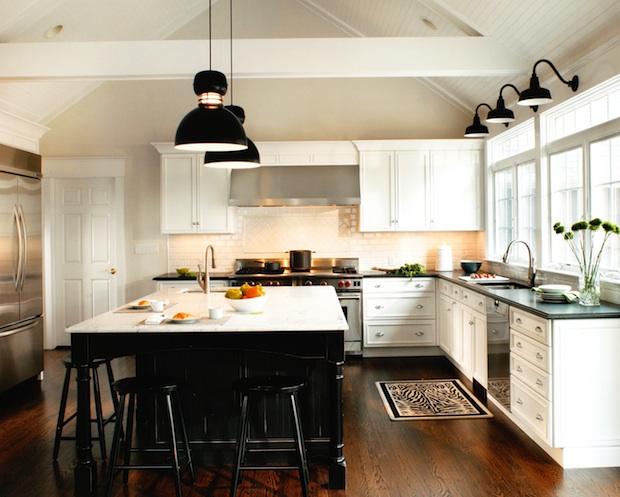 When I first saw the photos above, I was blown away. I believe the first word that came to mind was, woah. It's always interesting seeing that each customer has a different use for our lighting; they have their own tastes and their own take on design. If I didn't know any better, I'd say these photos have been grabbed from the May issue of Traditional Home!
This has always been my favorite style of home so it will be easy to write about today; traditional yet upscale New England styling, tall, exposed ceilings and the dramatic use of white paint that makes the size of the rooms appear endless. Regardless of the seasons or the temperature outside, it has the feeling of home – the kind you only see in movies and the kind a lot of girls dream about having someday (with Bradly Cooper as your husband, naturally).
Back to the lighting. A big trend has been using our smaller style gooseneck lights above the kitchen sink. Its been seen on DIY's Blog Cabin, Extreme Makeover, and most recently from Erin Loechner on HGTV's Design Happens. Both modern pendants and barn style gooseneck lights can be combined with either similar or contrasting finishes – it's totally up to you. Here, homeowner Patty and Thyme and Place Design utilized a standard black finish. They picked a dark finish to boldly contrast against the white surroundings, yet made sure it tied into the opposing black island below – beautiful!
The lights chosen above the kitchen sink are like our Artesia Gooseneck Lights. With a shade based on the classic style of the Original Warehouse Shade, the Artesia remains one of the most popular gooseneck lights sold at Barn Light Electric – and with good reason, right?
The two deep bowl pendants over the center island make cooking and cleaning a breeze, and with a family of seven, a lot of time is spent in this space! The cord hung pendants look just like our OB Deep Bowl Pendant, which start at $279.00 each.
"I've been dreaming about these goosenecks for years. Different style barn lights lend such great style to this kitchen. Light from the french doors, windows, transoms reflected on the white walls low sheen helps hide dust and dirt." – Patty
If you'd like to send us in your photographs using our lights, please do so! We'd love to feature them on the blog and use them around the site. To do so, click here.
Photos Courtesy of Thyme and Place Design