Industrial Warehouse Pendants in Barcelona, Spain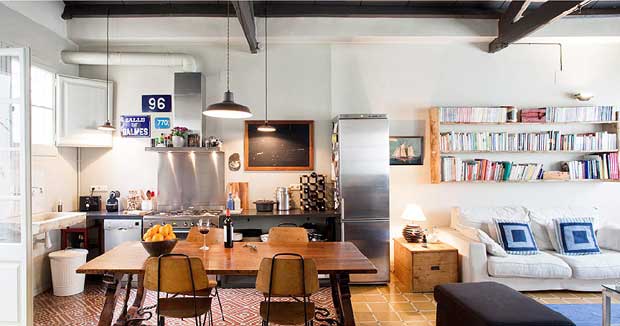 This hilltop home in Barcelona, Spain features several pendants resembling the Barn Light Warehouse Pendant and the Ivanhoe® Sinclair Industrial Porcelain Pendant.
This 1,000 square foot, three bedroom home was featured on Apartment Therapy. It was designed by architect Tuomo Jauhiainen and the two owners: fashion designer, Cecilia Sorensen and illustrator Roope Alho. Together, they planned a boxed exterior shape to the home with Scandavian simplicity throughout the interior. The house's structural simplicity balances the elaborate landscape surrounding the house. Natural light supplements the pendant lighting thanks to large windows and sliding glass doors, while open spaces and Scandanavian style came from the culmination of the designers' own creativity.

Each of the strategically placed pendants complement the kitchen's vintage industrial theme which includes stainless steel appliances, a chalkboard, wooden crate side tables and antique metal signs. Above the wooden table, a cord hung warehouse pendant shines over the wine bottles and fruit basket. The shade's subtle finish blends perfectly with the kitchen's white walls and the solid colors of the furniture in the neighboring living room. Barn Light Electric's warehouse shade is available in sizes ranging from 12 inches to 27 inches and like many of our barn pendants, each can be customized in more than 50 different finishes. Options such as a glass guard and wire cage are available as well.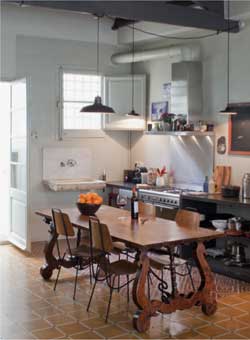 Toward the rear of the kitchen, two industrial pendants illuminate the counter top work area where the stove top and cooking utensils are placed. These vintage inspired pendants resemble the Ivanhoe® Sinclair Industrial Porcelain Pendant sold at Barn Light Electric Co.®. The American made Ivanhoe® Sinclair is produced with a porcelain enamel finish and is based on the original, 1930's shade designs.
Like the originals, each comes with a drop cord and a vintage nickel or brass socket. To complete the industrial look, add an Nostalgic Edison Light Bulb to your order.
Photos Courtesy of Apartment Therapy