Industrial Lighting Styles Utilize Galvanized Pendants

Bringing a historic, yet up to date appearance to a commercial store or restaurant doesn't require a massive effort for a major effect. With the right focus on specific areas of your business, you can make efficient and effective adjustments that are sure to be noticed by new customers or daily patrons. To achieve this, select a galvanized metal finish for your light fixtures. This allows you to bring in a vintage inspired look that will not only be visually appealing, but will aid in achieving a calm, relaxing environment for visitors.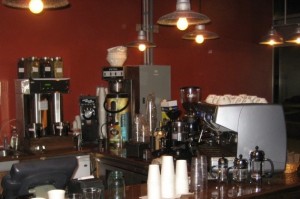 A great business example is the Slow Train Cafe in Oberlin, Ohio. As you can see in the photos, the cafe's owners utilized black cord hung Shallow Bowl Warehouse Pendants from Barn Light Electric. The warehouse shades pictured above are in a galvanized metal finish. These galvanized lights help to create an atmosphere with charm and rugged style that can only be found in an industrial farmhouse setting. Surrounded by exposed galvanized duct work and salvaged retro bar stools, these light fixtures give the cafe a consistent and cohesive vintage industrial feel.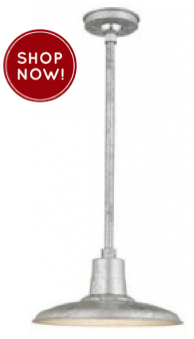 Other galvanized lights used within the Slow Train Cafe are the Mason 2 Light Chandelier, the Saddlebred 3 Light Chandelier, and several of our popular Wire Guard Industrial Pendants.
Another example of a restaurant that utilized industrial Shallow Bowl Warehouse Pendants is the Lexington Avenue Brewery in Asheville, North Carolina. The owners placed our 12 inch, cord hung Shallow Bowl Pendants over their bar and table areas. The bar's mood is enhanced by the surrounding green and purple ambient lights, which reflect off the sleek, galvanized finish of the pendants. This makes galvanized lighting not only a retro inspired finish, but modern as well.
The Shallow Bowl Warehouse Pendant starts at $119. Each is available in numerous shade sizes and can be customized in over 50 additional finish options! For a truly unique look, add an optional wire cage or guard and glass attachment! To bring a cohesive look to the exterior of your business, consider the Shallow Bowl Gooseneck Light or other gooseneck barn lights.