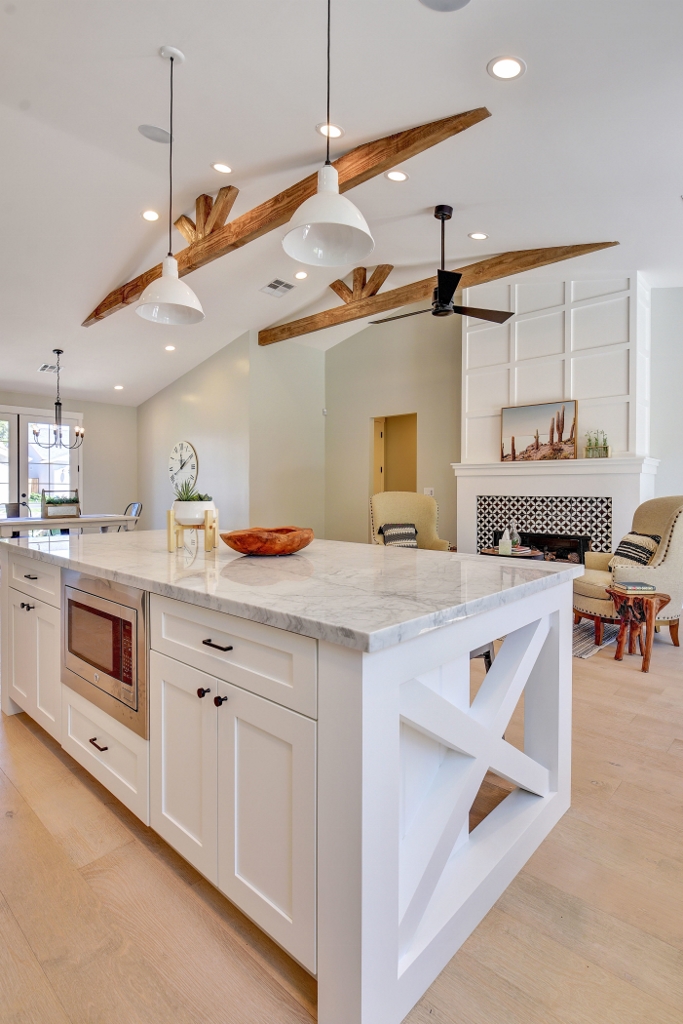 How To | Use White Lighting as an Ideal Design Element
We talk about color quite often here on the Barn Light Electric blog, but today we're considering the role of white in design and lighting. White, as you might guess, has no hue, but reflects whatever color you shine on it. If you missed this blog post, our guest blogger Whitney May discovered how her light bulbs could change the color of the "white" tile in her powder room!
People often use white as a neutral base then add pops of color with fixtures, furniture, and other accent pieces. Others prefer the classic look of black and white with punches of gray thrown in. 
When Patsy created an outdoor bathhouse near her pool, she envisioned a simple and clean design with white board-and-batten walls, galvanized metal roof, and black accents.
She chose the Union Porcelain Pendant with a 16″ shade and white finish. She added a bit of texture to the look with a black-and-white chevron cord.
The contractors of Rebuild the Block needed a large, statement pendant in this farmhouse kitchen without taking away from the clean lines of the space. They chose a white finish for the 14″ Wilcox Deep Bowl Pendant Lights to tie into the subway tile back splash and white board-and-batten trim.
When Kelly Hurliman, an interior designer and former fashion stylist for Oprah Winfrey, decided to remodel her kitchen, she wanted a fresh, black-and-white space.
"The previous kitchen was cream colored and decorative," Kelly says. "I knew we could always add wallpaper, color, or pillows to change it up, but we wanted the foundation to be classic." Kelly customized her new Wilcox Deep Bowl Pendant Light with a white finish noting that even with the absence of color, the finish has a richness and depth that only comes from porcelain enamel.
In the dental office above, the abundance of white offers a fresh feel while the splash of blue on the wall adds personality. It also serves as the perfect backdrop for these Sinclair Industrial Pendant Lights. The white fixtures have an extra pop of texture with black cotton twist cords.
White can even serve as an accent "color" as shown on this beautiful barn. The white trim, doors, and The Original™ Warehouse Gooseneck Light offer the perfect contrast to the red facade.
For more inspiration on white and every other color of the rainbow, don't miss our Instagram, Facebook and Pinterest feeds. They're loaded with endless photos of amazing spaces!