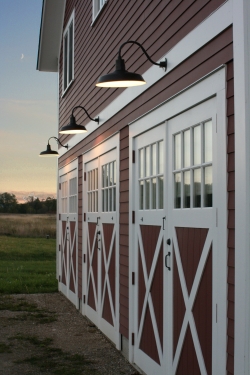 Gooseneck Warehouse Shades and a Big Red Barn Just Go Together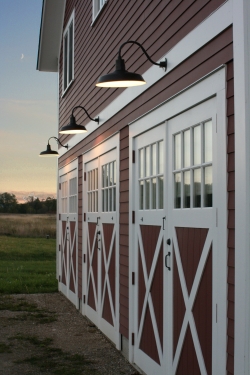 Some things just go together like peanut butter and jelly, Batman and Robin, copy and paste. So why would a designer choose anything else for a classic red Vermont barn than gooseneck barn lighting over every doorway? This beautiful barn, designed by Mitra Samimi-Urich, serves as barn, shed, boat storage, and workshop for the owners all with classic New England style.
The barn doors were custom designed and built to address very specific needs of the client. Avid kayakers, the owners needed a convenient place to store their boats when they weren't floating down nearby Otter Creek. Also a master woodworker, the owner needed space for a workshop that would accommodate the space-hogging tools of the trade. And behind door number three is the necessary garage space for those New England winter months that, in some years, never seem to end.
Highlighting the outside of these handsome and functional doors are stunning warehouse shades much like our Original Warehouse Shade. The black finish on these shades is the perfect complement to the deep barn red color and crisp white accents on the building. The gooseneck arms project the lights up and over the door so the light shines directly below just where it's needed.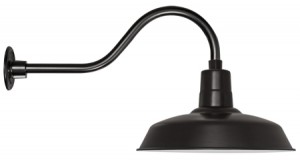 Based on vintage RLM warehouse shade designs, our barn lighting recreates the rustic charm of the 1930s when these warehouse shades were first used on barns just like this one. The American made Original Warehouse Shade comes in three shade sizes to give you the exact span of light you need and in more than 40 finish colors so you can find one to match your own decor be it a barn, front porch, or garage. To give your light a more vintage feel, consider adding a wire cage or cast guard and glass.
Top photo courtesy of Mitra Designs and photographer Gary Urich