Featured Customer | Stem & Loop Pendants Lend Art Deco Vibe to Texas Kitchen
People remodel for many different reasons. Perhaps the colors are outdated. Or maybe it's time to try some new industrial decor in the living room. For Keith and Cathy of Houston, Texas, their daughter's wedding meant a house full of family and friends, and one of the targets of their remodeling plan was the lighting over the kitchen bar.

"We were going for an Art Deco industrial/warehouse look throughout the second floor living area," Cathy says. "Keith is an electrical engineer and we've always liked the vintage industrial fixtures such as Crouse-Hinds and Fostoria." The couple chose two 12″ Sinclair Stem & Loop Pendants in a Yellow porcelain enamel finish. The stem & loop pendant features a cord-and-stem mount combination that includes cording at the top and bottom of the stem. Keith and Cathy chose a black cotton twist cord and a 36″ Nickel stem and canopy finish along with a Nickel knob switch.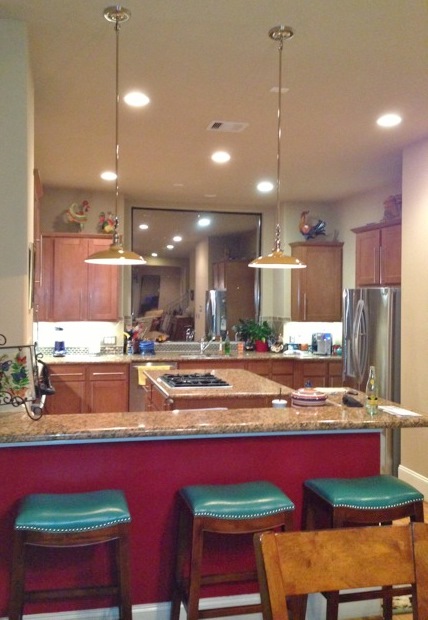 "We wanted a warehouse pendant and the nickel finish matches our accents," Cathy explains. "The color choice also fit the palette we used which was based on the 1930s Fiesta dinnerware which Keith inherited from his grandmother. We actually picked the size, color, and mounting height by holding various Fiesta plates in position, upside down over the bar!" The couple found Barn Light Electric when they spotted our Mig Retro Steel Industrial Pendant in a decorating magazine and googled it. They shop extensively online and note that they prefer American made products.
"We like the overall look, the exposed cloth cord at the pendant joints, the switch detail, and the way the reflectors direct light onto the granite bar," Cathy says. "The look works great with vintage-style clear Edison bulbs!" The couple's next remodeling project involves tearing out the wooden back deck to create a reclaimed brick, New Orleans-style courtyard featuring a combination of wall and post-mounted gooseneck lights. Keep us posted Cathy! Can't wait to see the results!
Photo courtesy of the homeowner