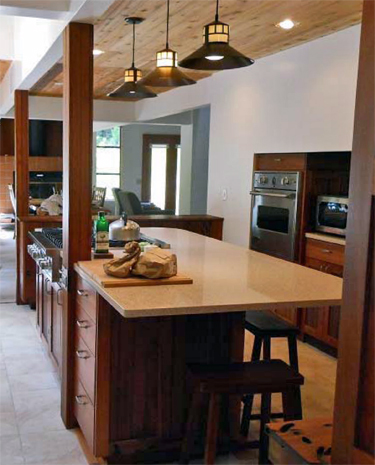 Featured Customer | Sharon from Mendicino, CA
Kitchen remodels range in difficulty. It could be a matter of simply painting and replacing cabinet hardware, or it could be the complete opposite and involve knocking down walls and starting from scratch. Today's featured customer, Sharon from Mendicino, California, went through with the latter in her remodel. There was no hope for her previous kitchen really. A tight "U" shape wasn't efficient or roomy, and it kind of evoked claustrophobia onto anybody who entered.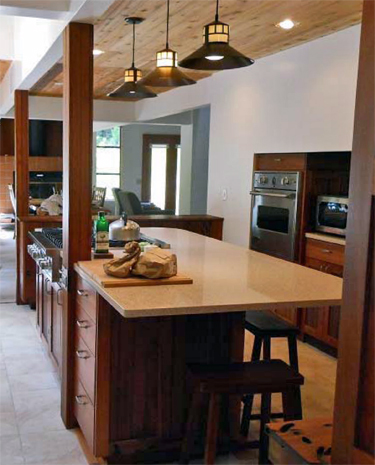 While her kitchen overhaul was a huge undertaking, she still focused on sustainability when choosing the materials. She included more than enough cabinetry throughout the layout, all of which are made from old sinker logs.
Sharon's home is right next door to Van Damme State Park which is filled with lush redwood trees. Centuries ago, when redwood logs were sent up the river to the mill, some sank to the bottom and weren't retrieved until the past few decades. Combined with salvaged redwood beadboard, her new kitchen is eco-friendly and completely natural to mirror her surroundings.
In her previous kitchen, harsh fluorescent work lights were present overhead. Those were later replaced with three of our Barn Light Cherokee Pendants. To complement the redwood finishes, Sharon opted for our rosewood finish. The authentic finish is constructed from brass, proving that they were made to last and last. The Cherokee Pendants are also unique due to the glass panels on the neck of the shade. Shown with honey iridescent glass, you can also choose from opal, cloud, green and blue glass, depending on the scheme of the room at hand.
Amongst other cabin style ceiling lights, the Cherokee Pendant is found in our Rustic Pendants category – all of which are customizable to your personal tastes! These American made lights are built from quality materials and will last for years, just like redwood trees.