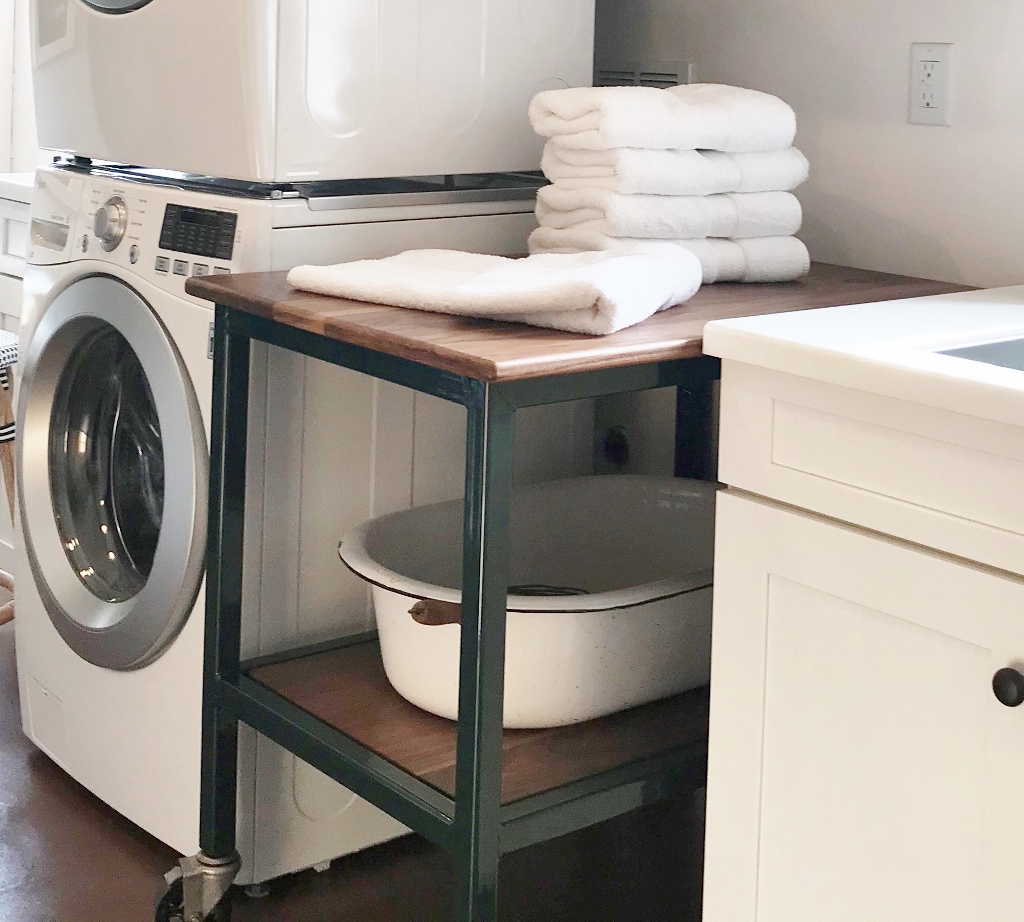 Kitchen Island Right at Home in Laundry Room Reno
Like many properties in Tucson, Arizona's Sam Hughes neighborhood, a registered national historic district, Katherine Ferguson's home endured many changes through the years. The compound, called La Casa Catalina, features an original adobe structure built in the late 1920s, a main house added in 1935, and an enclosed porch added in the late 1950s.
"The property also has a garage with a carriage house above it which had been converted into rental apartments called casitas," Katherine, an interior designer and owner of La Casa Catalina, explains. "When I acquired the property in 2015, the place was completely run down and in desperate need of major renovations." Katherine renovated three bathrooms, two small kitchens in the casitas, the guest bathroom in the adobe, and the laundry room.
The laundry room initially served as a kitchen, but with inadequate laundry facilities for the main residence and the vacation rentals, Katherine decided to dedicate the room to much-needed laundry space. Located in the original adobe section of the house, the space was completely gutted and all new plumbing, electrical, mechanical, and HVAC were added.
"I wanted to keep the room in the period of the 1920s and 30s with Spanish and Mexican style," she notes. "The adjacent rooms feature dark wood, green-and-white Mexican tiles, and green leather on antique Spanish Revival chairs."
Katherine carried the theme into the laundry room with the stylish yet highly functional Jackson Kitchen Island. This rugged cart, from our Furniture Collection, is crafted from welded steel with scratch resistant wheels and locking brakes. It also features a solid wood top and lower shelf.
Katherine customized her new work space with Natural Walnut wood with a matte sheen and a Dark Green powder coat finish on the metal framework.
"The option to customize the cart was critical to the design," Katherine says. "I wanted the look of a piece of furniture with the functionality of a movable cart. It was also critical that the cart fit between the existing cabinet and the stacked washing machine and dryer."
The Jackson Kitchen Island can be customized with one of a dozen wood options plus 30 durable powder coat finish colors to suit most any space. Each cut of wood features natural variations making each piece unique.
"I love the look of the natural dark wood and the industrial look of the powder coat finish," Katherine says. "I like everything about it."
Photos courtesy of La Casa Catalina