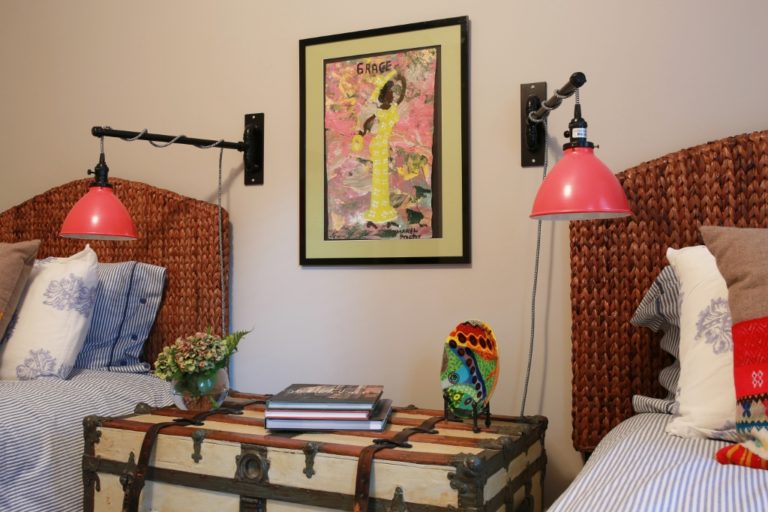 Gullah-Inspired Wall Sconce Lighting for SC Vacation Retreat
When Laura and Barrett built a second home in Beaufort, South Carolina, they turned to the local Gullah culture as inspiration. Gullah is a term describing the language, food, art, and music of the West African peoples who came to America through Beaufort on slave ships. Vibrant colors characterize Gullah primitive art which Laura featured in her new guest room.
"We have a wonderful piece of Gullah art in this room — a watermelon stiletto — by Monikue Harley Cooper," Laura says. When choosing lighting for the space, Laura honed in on Barn Light Electric's Watermelon finish color for the bedside wall sconces.
"My criteria for the bedside lighting for this room were fixtures that could work independently for each twin bed," she explains. "This is a small room, and I wanted to leave surface area on the antique steamer trunk that sits between the two beds."
Laura chose the Gladstone Swing Arm Sconce with its adaptable mounting to provide perfect lighting for nighttime reading. She customized these wall sconces with 8″ shades and a Watermelon finish to complement the nearby Gullah print. She also chose a Black finish for the arm, a Black socket with a knob switch, and a black-and-white cloth cord.
"We love the contrast between the watermelon pink and the black arm and cord," Laura notes. "I also love that they are American made and there were so many options to create the look we were wanting to achieve." The Gladstone Swing Arm Sconce also comes in 6″ and 10″ sizes plus more than two dozen finish colors to choose from. The plug-in style makes it easy to give any room an instant makeover.
"The quality of the lamps is superb, but I really love the color," Laura says. "The room just pops with the lamps against the backdrop of the rattan headboards. It's fun having my friends and family visit here and share in the history, culture, and southern charm of the area."
Photos courtesy of the homeowner