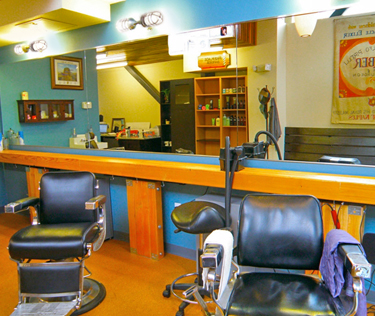 Featured Customer | David from Seattle, WA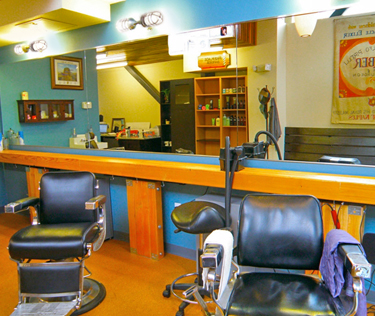 Barber Shops and Barn Lighting – an unexpected combo that turned into a match made in heaven. Today's featured customer, David Squire, owner of Squire Barber Shop, followed his dream and opened up his own business. David has been working as a barber since 1996, when he graduated from Bates Technical College. Today he works alongside fellow barber, Bryan, and the pair runs the shop with an efficiency admired by many. Their efficiency is what has made Squire Barber Shop the successful business it is today!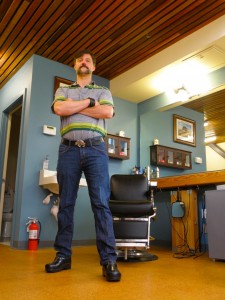 David first began working on the idea of owning his own business in 2001. He had a vision of a vibrant shop where customers could feel relaxed and at home. To make that happen he filled the shop with pieces from his own antique barbershop collection – topped off with vintage advertisements and an old barbershop chair on display. Squire Barber Shop prides itself on offering great, classic cuts to everyday men, all at a great price.
Defining the work stations are three of our rustic sconces – the Barn Light Wall Mount Double CGU Sconce. The Double CGU Sconce brings a classic, retro look to the room, especially since barbershops were highly popular in the 1950's. The double set of lights found on each piece, illuminates the area where it's needed the most – where they're cutting everyone's hair! Dave chose to order his lights in a galvanized finish and this was a fantastic decision to offset the colorful walls and trendy wood accents. While somewhat industrial in nature, we think this American made wall sconce contributes to the great vintage, relaxed atmosphere in Squire Barber Shop. Next time you're in Seattle, think about stopping by to say hello. You might want to call ahead though, because they're keeping very busy these days. Congrats Dave, you have a great looking shop!
Photos Courtesy of Squire Barber Shop