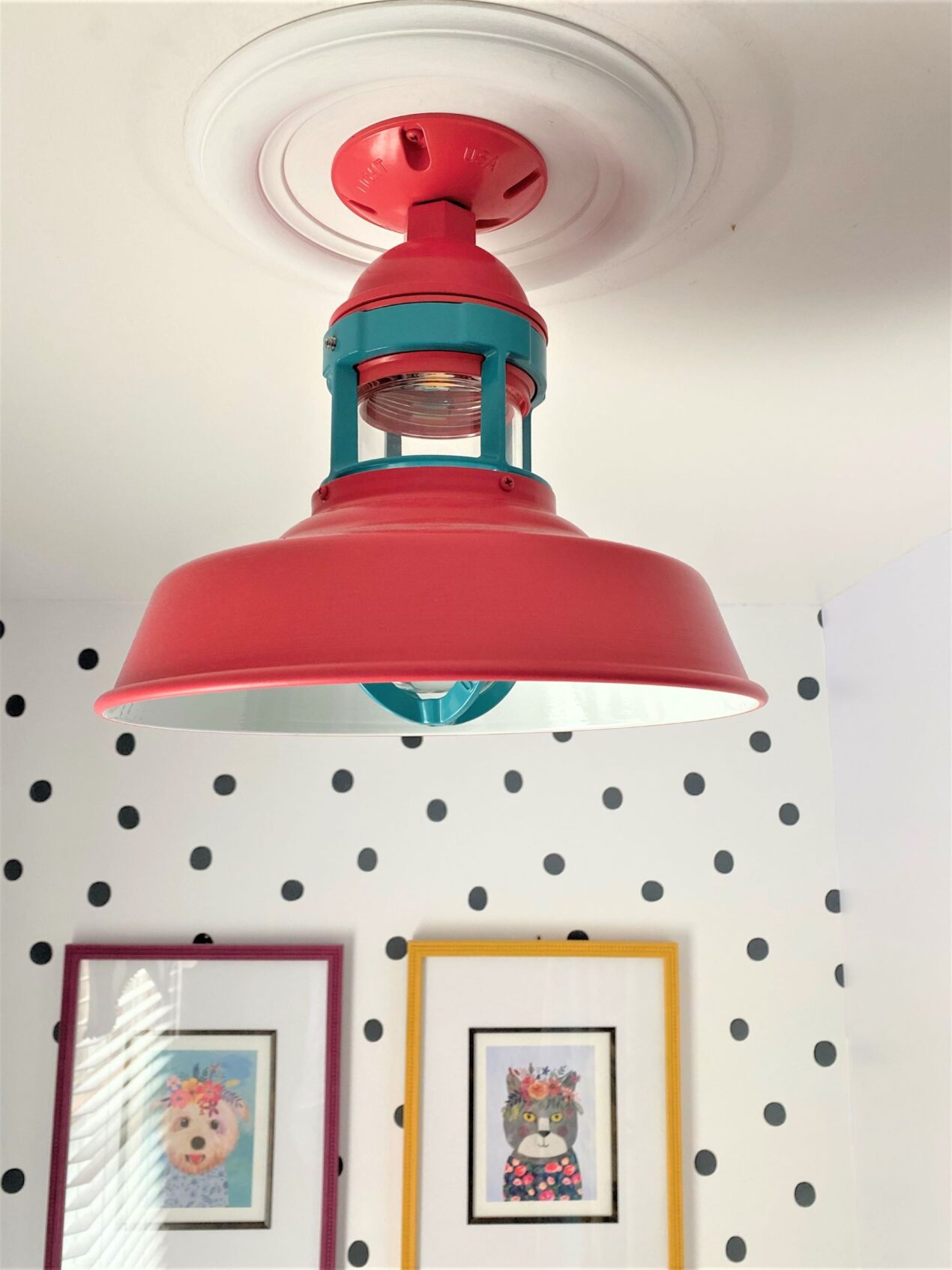 Easy-to-Customize Lighting Adds Eclectic Touch to Pantry & Bath
When Kristin and her family moved into their Clarks Summit, Pennsylvania, home more than two years ago, she began tackling a long list of needed renovations.
"Our house was built in 1991, and we have been making updates since we moved in," Kristin says. "We just recently finished our basement, gutted and remodeled our master bathroom, and turned our garage into a finished space with heat."
Next up on Kristin's list was adding a kitchen pantry. Inspired by photos on Pinterest, she splurged on a California Closets system and began her hunt for the perfect light.
"I am first and foremost about design. I get so frustrated by the options at local big-box stores," she explains. "Many options are too traditional for my taste. I love color. And I like unique and eclectic." Kristin hit the jackpot when she discovered Barn Light Electric during many hours spent online.
Kristin fell in love with the Seaside LED Pendant Light for her new pantry. She customized this American-made light with a 14″ handspun Raw Copper shade, standard white cord, copper hex cover, and domed lens.
"You don't see copper lights very often. I actually picked this light out before many of the other features were decided," she notes. "I love the color and the fluted edge. It's rustic but elegant."
Kristin was so happy with the customizing options she found on the Barn Light website, she continued shopping for a new light for her daughters' bathroom. The girls, ages 8 and 11, enjoy a colorful bathroom space with an adorable shower curtain and artwork featuring puppies and kitties.
Kristin chose the Sydney LED Flush Mount Pendant for this bathroom. She customized the pendant with a 12″ shade, a Watermelon finish, a Teal guard, and clear glass for maximum illumination.
"I absolutely love the color options and that I could use two different bright colors on this fixture!" she says. "I love the traditional barn style of this light but that it has a modern twist because of the colors. It makes me think of candy and matches the rest of the décor in the room so well. It is so fun!"
Dozens of finish colors are but one option Barn Light offers on its vast array of handcrafted lighting. Multiple shade sizes, mounting options, wire cages, dusk-to-dawn photocells, and LED options all make it easy to create the perfect light for any space.
"I am all about surprising people with my design choices, and these lights deliver a wow factor that you can't get with a big-box store purchase or even many online sites," Kristin says. "I went down many rabbit holes looking for unique lighting. I stumbled upon Barn Light in one of my many searches, and I'm so glad I did!"
Photos courtesy of ShabbyPeacock