Connor's Art Center Brings Light and Joy to Rescued Children
What happens when a group of designers from Extreme Makeover: Home Edition no longer have the wildly popular show to work on? They find a new outlet for their creativity! With huge hearts and tremendous talent, our friends Veronica Valencia and Kim Lewis unleashed their design skills on a new target — Ghana, West Africa.
"On one of our last EMHE episodes, we met some people from Art Feeds, a nonprofit organization in Missouri," explains Kim. "They told us the story of children in Ghana who had been sold by their parents into slavery to the fishing industry on Lake Volta. The children are forced to fish every day in terrible conditions and many kids drown."
With help from the Touch a Life Foundation, who began rescuing these children, Art Feeds planned to take their art therapy program to Ghana to help the children heal from their traumatic experiences.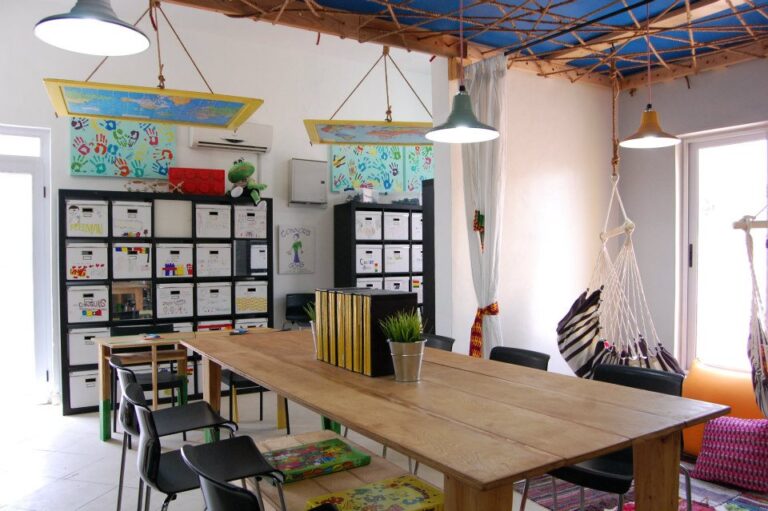 Kim and Veronica jumped wholeheartedly into the project and Connor's Creative Art Center began taking shape. Barn Light Electric was honored to donate several Aero Shallow Pendant Lights to help light up the new space. The designers chose bright finish colors like yellow, white, and jadite along with red-and-white chevron cords to bring lots of color to the room.
The art center was built in honor of a boy named Connor Deal, a budding singer and artist, who passed away at the age of 12. His family started the nonprofit organization Connor's Song to help inspire creativity in other kids both at home and abroad. The Deal family felt that this project was a fitting way to share Connor's spirit and imagination with other children.
"Connor loved building with Legos so we designed this art center to look like three Lego blocks stacked together," Kim says. "On its own, a Lego is just a block, but together Legos create something solid and beautiful. These kids are stronger together. And our hope is that through art and creativity, these kids will find healing."
Photos courtesy of Veronica Valencia