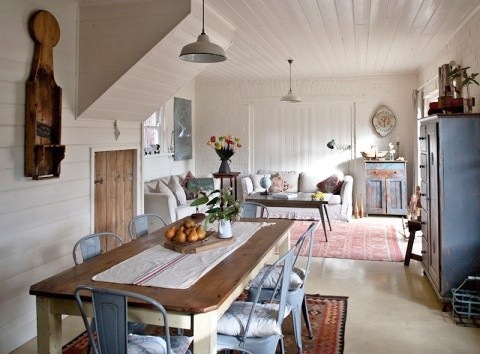 Classic Barn Warehouse Shades Add Vintage Touch to Retreat
You never know what you'll find at the flea market! Our friends at the Red Brick Barn, a rustic, two-story retreat in central Victoria, Australia, found some vintage warehouse shades at a local flea market and repurposed them for use in their communal dining room. The shades sported the classic green enamel finish when found at the flea market but were spray painted an off-white color leaving a hint of green showing at the rim as an accent.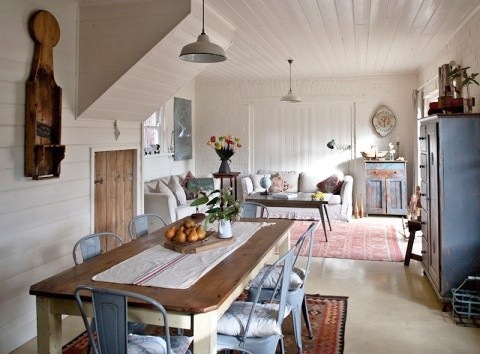 If you're not into traipsing around flea markets and antique sales looking for lights, you can get the same industrial look in a brand new shade. These antique shades are much like our Old Dixie Cord Hung Pendant, a classic light with loads of customizing options so you can create a truly unique light for your own home or business. This American made pendant comes in four popular shade sizes and a dozen durable powder coat finish colors ranging from traditional hues of Black and Galvanized to brighter shades like Barn Red and Royal Blue. Choose a standard cord or dress up your fixture with a colored cotton twist cord that adds even more flair to the overall look.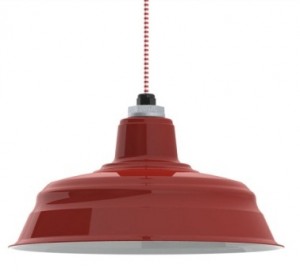 If you want authentic vintage flavor for your Old Dixie, consider adding a wire cage or cast guard and glass which can be customized with color and glass choices. In commercial lighting venues, these options give added protection to the bulb in high-traffic areas. To create a familial look to your commercial lighting plan, consider the other members of the Old Dixie family — the Old Dixie Gooseneck Light, the Old Dixie Stem Mount Light, and the Old Dixie Wall Sconce.
And now you can enjoy all of the vintage character of our RLM-inspired warehouse shades plus the energy-efficient and environmentally friendly aspects of LED lighting with our Barn Lighting LED collection. The Old Dixie Cord Hung LED Pendant is one of our many favorites that now offer an LED option!