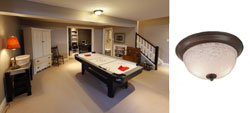 The Right Lighting For Your Basement & Game Room
Of all the areas in your home, the basement can be the easiest room to dramatically improve. Give it a stylish lighting upgrade that won't demand days worth of your free time!
Basements are often dark and under lit due to a lack of windows. Whether you opt for pendant lighting or flush mount lights, you can convert a dark atmosphere into a bright and lively game room where family and friends gather to watch a movie or play a game of pool.

We found several basements where lighting played a key role in the re-purposed rooms. In the top photo from Don Wong (http://www.donwongphoto.com), you'll see three pendants with shades that are designed like our Holophane Pendant. The sleek fanning of the shades keeps the light focused on the pool table while the recessed lights around the perimeter are left to illuminate the remainder of the room.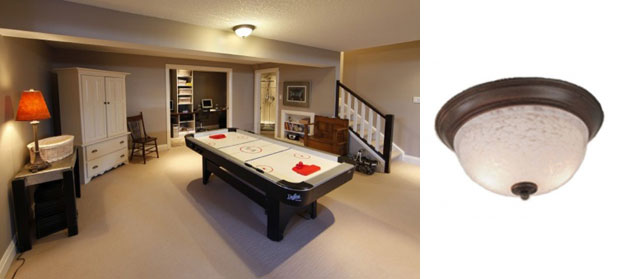 Another basement we found utilized flush mount lighting like the West Side Flush Mount Ceiling Pendant. As seen in the picture from Schnarr Craftsmen Inc. (www.schnarrcraftsmen.com), the flush mount light brightens the area between the air hockey table and a small office in the rear.
The West Side Pendant starts at only $121 each and comes in four colonial style finishes with a Mouchette glass shade. Here, the homeowners chose a darker finish to go with their dark wood railings and accent furniture – a great choice don't you think? To top it off, the glass shade has a fancy frosted appearance that hides ugly light bulbs, yet also lets tons of much needed light escape. If you're a follower of your blog, you may recognize the West Side Pendant from Bill Goldberg's garage; it was featured on the DIY Network's series titled Garage Mahal!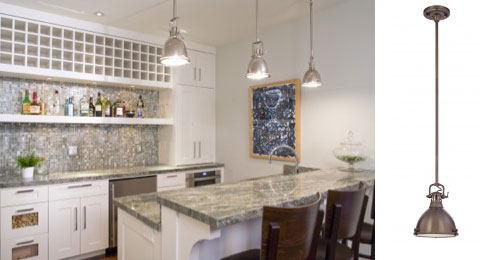 If you're planning a basement renovation with more of a lounge-oriented layout, take a look at the lights used in the bar designed by H&H Design. Three metallic pendants like the Times Square Pendant hang over the bar prep area and the sink. The postmodern design of the pendants ties in nicely with the granite counters and backsplash giving it a stylish appearance for guests – and yourself!