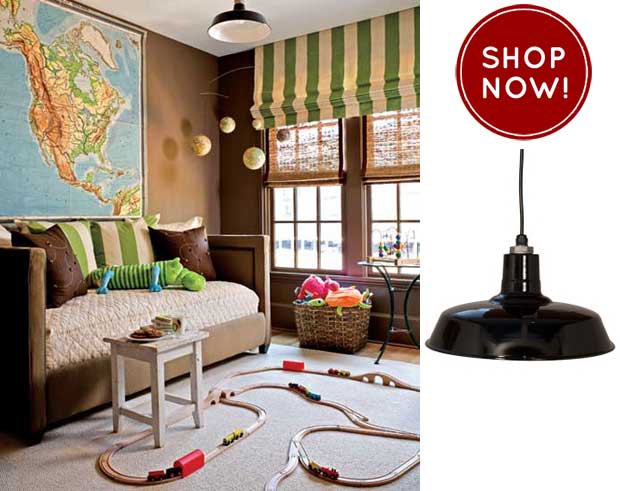 Atlanta Playroom Incorporates Vintage Inspired Lighting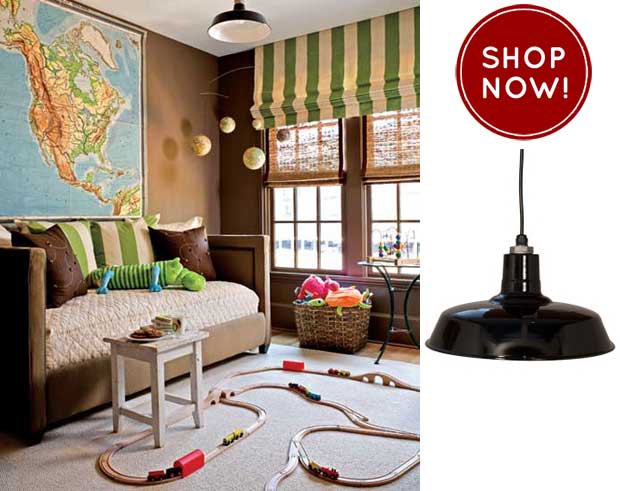 Photo (left) courtesy of Traditional Home Magazine
Great lighting isn't just for the main areas in your home. With affordable options like a vintage inspired warehouse shade, parents can create a warm and relaxing environment in their child's playroom. In the photo above, a black warehouse pendant light resembling the Ivanhoe® Sky Chief Warehouse Pendant, adds charm and a historic twist to the classical styled room. Vintage style toys like the Brio wooden train set and traditional layered draperies add a bit of inspirational whimsy to this playroom. The photo is from an article on TraditionalHome.com, which includes an insightful quote from Atlanta interior designer Barbara Westbrook:

"While furnishings that stand up to the rumble-tumble of kids' activities are a given, it is equally important to create calming and comforting surroundings. A home should be a retreat from our very, very busy lives…A place where a family can relax together, hang out, and play."
The Ivanhoe® Sky Chief Warehouse Pendant starts at $169 and is available in a 16″ shade size. Several of the porcelain enamel finishes would have coordinated well with the space, but for a similar look, simply choose Black. Hanging options for the Ivanhoe® Sky Chief include a standard cotton twist cord or a stem mount for outdoor patio use. To complete the antique look of the porcelain enamel Sky Chief, A Nostalgic Edison Style Light Bulb can be added.
Interior designer Barbara Westbrook incorporated kid-scaled furniture and educational toys such as the world map and the planet mobile into this section of the Atlanta townhouse. Westbrook was one of three interior designers in the Atlanta area who joined with award-winning builder Pam Sessions of Hedgewood Properties and Traditional Home Magazine to build and decorate three adjacent townhouses within the community.
To see more examples where the Ivanhoe® Sky Chief Warehouse Pendant, see our blog post: A Match Made In Heaven: Levi's And Nostalgic Porcelain Lighting.