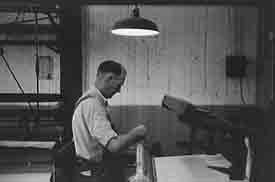 Finding Our Vintage Lights Within Historic Cotton Mills & Factories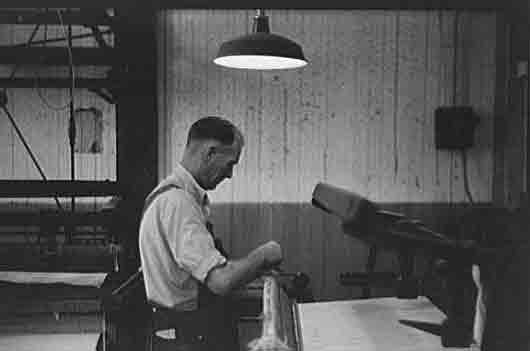 Did you know that barn lights played a key role in the expansion of America's cotton industry in the early 1900's?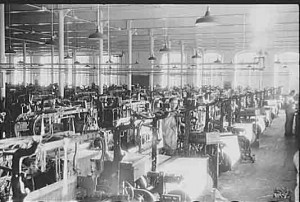 For maximum efficiency in the workroom, vintage lights were used by companies such as the Mary Leila cotton mill in Greensboro Georgia (pictured above) and the Ponemah Mill in Taftville, Connecticut. Throughout America's industrial era, cotton mills produced many of the most crucial and highly demanded materials in factories across the country.
In the photo above, a mill worker is busy on an assembly line that produced such items as nylon silk, life rafts and uniforms that were used for World War 2. The pendant hanging above the textile machine shines directly on the area where he his eyes are focused. The optimal lighting angle is credited to the warehouse shade which was used for RLM lights. These are very similar to the vintage 12″ warehouse shade sold within Barn Light Electric's vintage lighting section.
Ponemah Mill, (pictured below), also utilized vintage barn lights throughout its five story, 430,000-square-foot facility on the banks of the Shetucket River in Connecticut.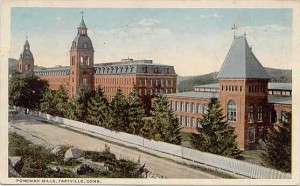 While many historic factories that originally housed these lights have been condemned or destroyed, Ponemah Mill operated for about 100 years and is currently being restored and revived, thanks to a three-year long joint effort by The O'Neill Group and OneKey LLC.
Built immediately after the Civil War in 1865, Ponemah is known for its two towers, corbelled brick façade and a second empire mansard roof. The U.S. National Parks Service will oversee the historic preservation of the structure, to ensure the historic elements are sustained as the mill is converted into luxury apartments and commercial offices.
Ironically, many of the restored and revived vintage barn lights sold at Barn Light Electric are installed in apartments and commercial offices. These classic American lights were salvaged from a variety of places across the country.
Photos from the U.S. Library of Congress' Farm Security Administration & Office of War Information