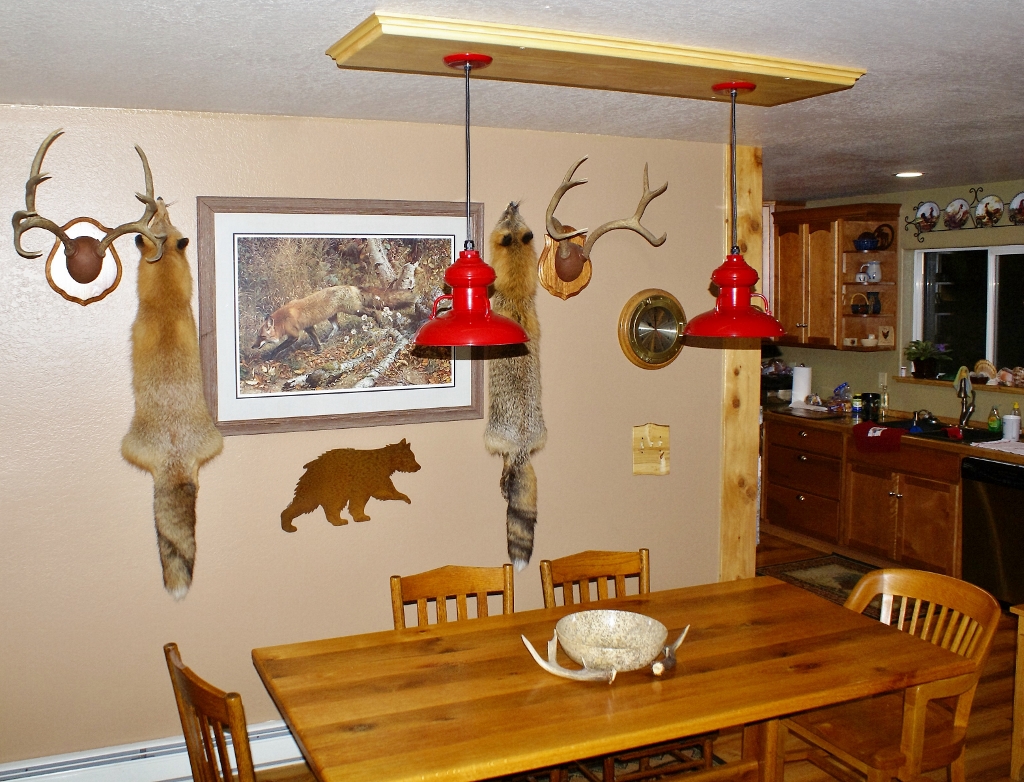 Rustic Barn Lights Capture Hunting Lodge Feel in Alaska
There's rustic — think distressed wood, natural fabrics and lots of texture — then there's Alaska rustic. There's no better place than America's last frontier to showcase rugged, handcrafted, and even captured décor.
And although Steve lives in a modern two-story home in Kodiak, an island off the southern coast of the 49th state, his home exudes rustic charm that includes fox pelts as wall décor and barn lights in the dining room.
"We are trying to keep a hunting lodge theme going as we are avid hunters," says Steve who lives with his wife Bonnie and son Trevor. "The house was built in 2005 and we've been here since 2008." Steve recently updated his dining room lighting in an effort to brighten up the area which is accented with local art and two cross fox he caught on Kodiak.
"We chose barn lighting because we loved the old style look and feel," he notes. "We liked the variety of options offered by Barn Light Electric and only buy products made in the U.S. We are done with subsidizing the Chinese!" Steve chose two Laramie Pendants to highlight his dining room table. He customized these barn pendants with 12″ shades, a Barn Red finish and standard black cords.
"The Laramie Pendant puts light down on the table where we need it most," Steve explains. "Our previous fixture had a globe that reflected the light upwards and left the table quite dim even with the brightest bulbs we could use. Now we get more light with two bulbs than we previously got from three!"
Steve found Barn Light Electric by searching online for American-made lighting. He was struck not only by the craftsmanship of his new pendants but the pop of color they added to his dining room. The Laramie is also available as a wall sconce, gooseneck light, and stem mount light.
"We love the look, finish, and the attention to detail in manufacturing. And we like the red because it matches our barn red front door," he says. "It is obvious that these are a quality product."
Photos courtesy of the homeowner