RLM Warehouse Shades Used in WW2 Era Assembly Lines
Vintage warehouse shades share a part of our American history. From the early 1900's to the World War 2 era, RLM Warehouse Shades lit auto assembly factories in Detroit and other sections of the Midwest United States. Assembly line workers often relied on these light fixtures that were installed directly above the lines to provide focused beams of lighting where they were working. In the photo above, you'll see a series of cord hung warehouse shades on two levels of a 1940 Chevrolet Assembly line in Flint, Michigan. Barn Light Electric Co.® sells several salvaged styles of these shades under their Vintage Barn Lighting category.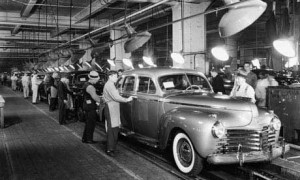 Ford Motors and Chrysler Motors also utilized RLM lighting to maximize worker efficiency and productivity. In the picture to the right, a team of mechanics put the finishing touches on during the final stage of an assembly line at Chrysler. Notice the giant, white RLM shades on both sides of the line which are angled to focus on the car's top.
These industrial lights contributed to more than just the emergence of the American automobile. America's greatest generation knows the crucial role assembly line workers played during World War 2. Under an executive order from FDR, auto companies converted their car assembly lines to manufacture thousands of ships, tanks, planes and jeeps that were immediately sent into battle.
The photo below comes from the Library of Congress. A series of stem mount pendants hang above the assembly line in Inglewood, California. These motors were built for the B-25 bombers which were a major advantage in the Pacific stage of the war. These porcelain pendant warehouse shades are no longer confined to warehouses and factories, they're commonly used for interior lighting. Warehouse shades are used above tables, bars, counter tops, or even in a workshop. Just as relevant as they were so long ago, these vintage warehouse shades withstand the test of time, becoming the perfect addition to any nostalgic project.
Top Photo Courtesy of: flintgm100.com, Small Left Photo Courtesy of: guardian.co.uk