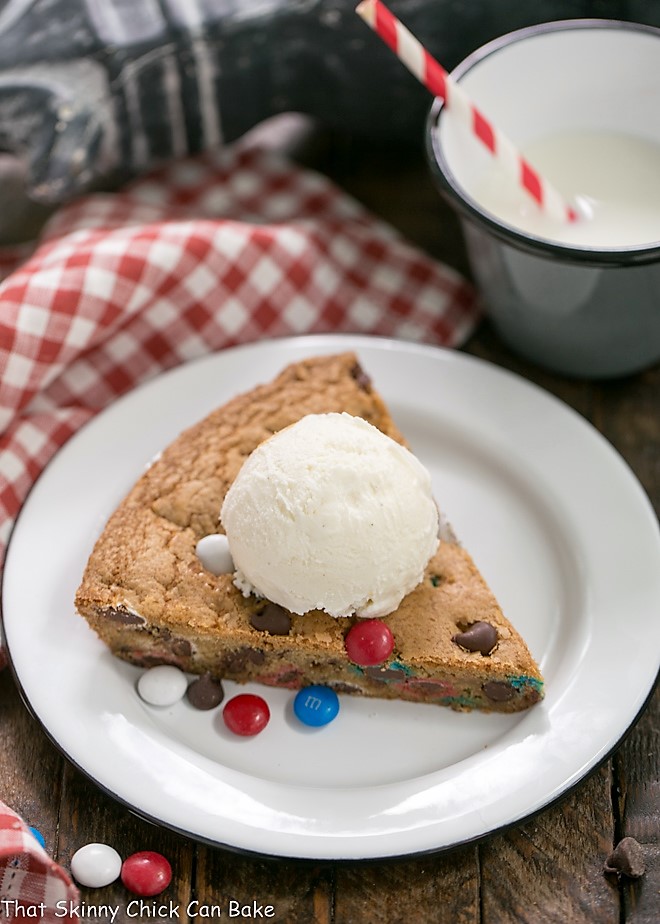 Celebrate the 4th with a Patriotic Skillet Cookie!
With the 4th of July landing on Wednesday this year, we've decided to celebrate all week! And what better way to celebrate than with an easy dessert that's sure to please kids and adults alike!
We're happy to introduce Liz, from That Skinny Chick Can Bake, who created the Patriotic Skillet Cookie just in time for this week's Independence Day festivities. Liz has been blogging for more than eight years and loves creating sweet things in her kitchen.
"I love making cookies and cookie bars. There are so many options and they're so easy!" Liz says. "My family adores chocolate chip cookies so this is an easy way to make a giant cookie that's perfect for the holiday."
Liz chose our Enamelware Dessert Plates to present her latest creation. She customized these hand spun plates with a Graphite bottom and White top because the neutral palette works beautifully with food. The plates remind Liz of the ones her mom used to have in the kitchen.
"My mom loved dishes and I remember her set of enamelware plates from which I ate plenty of lunches," she recalls. "Barn Light Electric's dishes are high quality and casually elegant with the perfect sheen."
Liz also chose a set of four Enamelware Cups in the 8-ounce size. They are also available in 12- and 24-ounce sizes. Liz's cups match her dessert plates with a Graphite exterior and White interior. Like all of our Porcelain Enamelware, the cups are hand spun from steel then coated with multiple layers of porcelain enamel glass.
Now that Liz has discovered the quality of our plates and cups, she has her eye on our Build Your Own Enamelware Bowl Collection. This set features five bowls each one customized with size and and choice of 10 finish colors.
"I'm a huge fan of the contrasting color on the backs of the plates and insides of the cups and all of the fun color options." Liz says. "It's such a retro look and the colors would be a fabulous pop in my white kitchen!"
Photos courtesy of That Skinny Chick Can Bake