Yellow Bedroom Utilizes Neutral Tones and Lighting
Your master bedroom should be a reflection of who you are. It should be a space where you can put your mind at ease, as well as a room that you don't mind spending time in – after all, we do spend 1/3 of our lives asleep! Some prefer to have calming blues and lavenders in their master suite, however, we do enjoy a nice pop of color here and there. It's always fun when customers order their barn lights in unique finishes, but to bring in color, you can still do so with accent pieces and neutral toned lighting.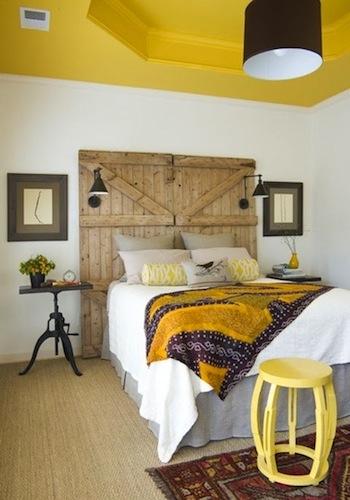 The bedroom featured on Design Indulgence is a great example. The majority of the room is finished in neutral tones – white walls, soft beige carpeting, and barn doors as a headboard (aren't they are to die for)?! By using different shades of yellow in the throw blanket, stool and ceiling, the room is anything but monochromatic.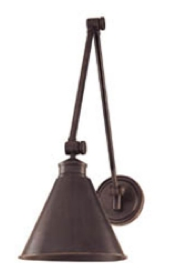 With all the bright colors, the designer of this room opted to complete the look with lighting in dark finishes. Mounted on the headboard are two vintage sconces, similar to our Exeter Wall Sconce. Shown in the old bronze finish, this is the perfect bedside sconce. The adjustable neck allows for lighting to be concentrated in different areas – bring it over head for a little night time reading, and push it out of the way when you're ready to sleep.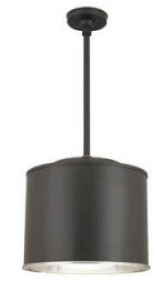 You may notice a hanging light suspended over the bed as well. This was a smart idea on behalf of the homeowner; we wouldn't possibly expect the two wall sconces to illuminate the entire room, so a pendant light was needed. The Symmetry Pendant, our pick for the room, is almost identical to the drum shaped pendant above the bed. Available in over 40 finishes, including yellow, this modern pendant light can be incorporated seamlessly into any design and decor scheme.
Bedroom Photo Courtesy of Design Indulgence