Vintage Warehouse Lighting: Nothing Fishy About It
Although the doors just swung open for business in 2011, the Fish Bar in downtown Chicago has a comfortable, lived-in look and feel that invites customers to sit a spell and enjoy fresh seafood "736 miles from the sea." Contributing to this cozy environment are warehouse porcelain pendants very similar to Barn Light Electric's own line of Ivanhoe® pendants. This vintage warehouse lighting, suspended from the ceiling on black cords, adds a touch of the old to this new establishment and illuminates the bar and other seating areas. Complementing the nautical blue porcelain pendants are mismatched, industrial metal stools, a classic wooden canoe hanging from the rafters, and touches of weathered wood throughout the 30-seat diner.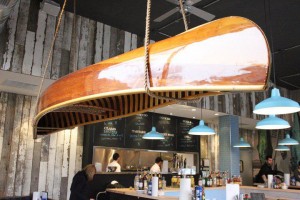 Commonly used outdoors or in industrial settings, these porcelain enamel lights are now popping up indoors and look right at home above a kitchen bar, the dining room table, or in entryways. The pendants can be customized for any space with a variety of colors and cord lengths to fit your ceiling height. Styles are available in several sizes ranging from the smaller Mig Porcelain Pendant to the generous, 16″ Sky Chief shade. Many of the porcelain shades offer a span of brilliance with their white interiors to light up counter tops, table tops, or a work space.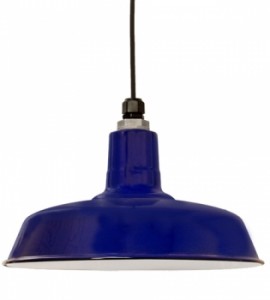 This particular Sky Chief pendant can be used both indoors and out and is CSA listed for use in damp areas. Eight finish colors are available for this porcelain pendant along with five different cord styles. Restaurant owners may also wish to incorporate the Goodrich® gooseneck version of the Sky Chief outside their entrance. Patrons of the Fish Bar will no doubt enjoy the accessibility of fresh seafood so far inland, but will also feel immersed in the nautical look and feel of this new eatery.
Top Photo Courtesy of the Fish Bar